Humbled eyeballs and cramped feet, yet happy
His hair is long and thick. They cram into a shape Jimi Hendrix was proud to keep. Sometimes they thump down to his forehead in curled waves and you can't catch the eyes that have caught so much merit religiously. He is pegged into a white shirt and a pair of Bata slippers. The jeans jostle with yesterday's walk in the rain. His voice is charcoal meeting skill.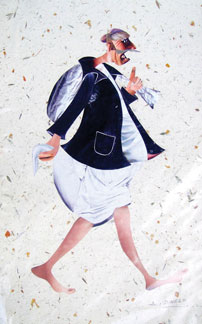 These to me are the common features an artist employs to harmonise by the edge of his fabrication all in the rhythm of art's messy game. Trickling down was a stream of once polo white canvases now swollen in acrylic and oil sunning themselves by the cord of Green Path ringing with foliage. It calls itself, the 19th annual Kala Pola.
Against a backdrop of Sunday's droning commerce, I struggle with a frightened thought that I may sink like a stone and have my mind blown off. Clearly, it becomes the result of truth.
So, I am taken by an imaginary hand that guides me into bright tents hugging over a hundred talented artists' kopi saved nights and skipped lunches.
As my delicious relationship with these paintings cements, I take my time like I do with chocolate. Instantly I freeze at a perfectly applied child monks in saffron and tamarind robes tucked under the company of a peacock feeding itself on a fair smack of grains.
The emotions here are a stunning synthesis. You are soothed by how the painter serves the details in each of the faces with a brush's prick. Colours run into each other feeling liberated. Children invade the ice cream joints like ants and at some level we see their parents occasioning the enthusiasm of a six year old as well. What is becoming to be my home for a few hours, endows a glimpse through another world that uplifts.
Beauty
Passion slightly brushing her held expression is a woman empired with curves swept into her body. The eyes are bowed seductively low shooting nature and beauty as white lilies merge. Her orange hair lay puzzled by the wind according to the artist's plot. Such a painting did remind me the lines of an Indian poet Rukmini Bhaya Nair who waved into her poem 'Kali':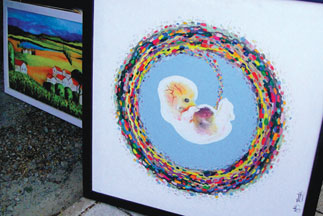 Loneliness drives this goddess mad
She is vagrant, her limbs askew
She begs a mate, her hair unmade
My legs whine, yet I migrate to a uniquely crafted set of works spilling free. I try to figure out what they could be as they shake their heads in disagreement to my guesses popping in the mind. The artist drops in and struggles in English to tell me these cultural paintings are done in broken paragraphs of terra cotta and pots as the sun quavered behind the geography of Nelum Pokuna. A befuddled air comprehends.
This brings to me what every intelligent artist invents. We share a few more smiles and celebrate particularly his use of patience and recycling. Then I scoop out his divergent flair and leave his English piteous under our blameworthy state of education. The meanings of some illustrations were comically political. A tent was awash with known faces from the red, blue and green parties demanding at least a chuckle from within.
With a clever tackle among those who have stirred irresistible drama off late, the many flocked and I at the spot couldn't help but have laughter train after us and its string dragging on the ground. There is a scene where I rush to find an artist at work. In front of him sits his inspiration as he pulls through the posed figure by sketching. The exact icon fills the blank page at the easel. My 'treasure' hunt expands beyond the expected festoon.
A little closer to this tent's arm reads a banner "Art by Cinnamon Grand." Hunger-struck stomachs whip up something snackish to reduce the groans. A hit of creativity crackles like oil in heated pans as I linger next to two paper sculptures in display with carrots, cabbages, brinjals and leeks for outfits. The chefs have interestingly come up with a nutty variety for Sunday's menu indeed.
I bend down how some works of artist Dineshini want me to do. Slipped into glass frames, her magic is done on recycled sheets with paper ripped out of old glossy magazines. Intricately trimmed the figures mostly capturing the rural of Lanka, turn out as if they were illustrated using the techniques of graphic design. Well it isn't so. I'm charmed.
Landescapes
Sifting through a rich rhythm of landscapes and village women I see them crunch within the colours of sunset shedding great light to artistic content. Every artist has braided a contemporary spin while interacting with traditional values enough to stump the time consumed.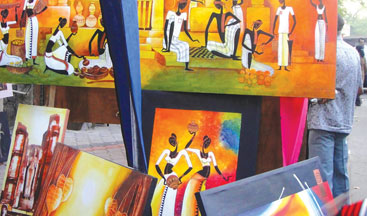 It came down to a recycled grasp yet again. It seemed that they were paint peeled rustic windows of the colonial Walauwas converted into pieces of art qualifying to bite wonders into you. One of them had morsels of a motherboard, the lids of Fanta, Sprite and other fizzy drinks plugged in to push it further into the chambers of creative discipline.
Nuts and bolts morphed themselves into a charging bison. As spiders form from rusted throw away metal, the ballerina's frilly dress employed the cage of a table fan.
Rather it is an engineer's play area at least in my general observation.
Trees stand thirsty looking for the wind. Bubbles of tourists have formed quickly flowing out like milk, their hands on chins under admiral scrutiny.
Yet caught up within this union is a fizzled disappointment when most artists are found battling to communicate with them. I pass a tourist who asks if she could get a translator.
Smile
Somehow, the artists are able to glean as the faces peel open a smile even though their language rut can't vouch to spice up the deserved praise. Engrossed in the assembly of all things painted and sculptured, I happen to rub shoulders with notable local authors or better still the Pakistan High Commissioner who looked rather enthralled under the brush-scribblings flown from fingers.
And just when a bouquet of crows murdered the silence of the trees, some paintings bid goodbye and proceeded to breathe in a whiff of Mercedes and BMWs to be hung against coffee shops or somewhere in an umbral tone of an elitist's bedroom.
Faces embarked in re-examination, there are at times handmade cards, paint brushes and easels lifted for a bargain. While sylphs lithe hotly like forbidden fantasy in this filmy cream of art in Colombo's skin, I think of George Keyt blowing out the candles, washing down his brushes caught in the paint's music. I think of Green Path falling into a fire breathed Monday in a few hours. I think of the hand still waiting on my shoulder to blunt the pain, as I leave a long distant love story behind, in the hope to meet again.
Rushda Rafeek is a freelance writer. She can be contacted through her email at thekohlreads@gmail.com