Interest of the nation at heart:
Harbinger of prosperity and national reconciliation
E.J Darley
(in charge at the start)
Goerge Winter
Dr. Christopher Elliott
A. M. Ferguson
John FAERGUSON 1865
R.H. Ferguson
Charles Tower
C. Drieberg (1923-1924)
P.B Marshall
J. D Quirk
H. A. J. Hulugalle (1930-1931)
H. D. Jansz
(1931-1952)
Tarzi Vittachchi (1953-1961)
Denzil Peiris (1961-1970)
Ernest Corea (1970-1973)
Philip Cooray
Lionel Fernando (1973-1977)
Harold Peiris (1977-1988)
Leslie Dahanayake (1988-1990)
H. L. D. Mahindapala (1990-1994)
Ajith Samaranayake (1994)
Lakshman Gunasekara
Jayatilleke de Silva (1999)
Rajpal Abeynayake (2006)
As the nation emerges from the dark passage of terrorism into a sun-lit land of peace and prosperity with prospects for a brighter future, Sunday Observer celebrates its 84th anniversary assuming its seminal role as the harbinger of prosperity and national reconciliation. Since independence, the Sunday Observer has been maintaining its preeminent position as the prestigious Sri Lankan English weekly which is famous for its outstanding editorial content and adherence to the highest standard of English journalism in Sri Lanka.
Despite the barrage of criticisms from diverse sections of the population in general and some sections in the media in particular, the fact remains that the Sunday Observer was the cradle of English journalism in Sri Lanka, an heir to a rich tradition of English journalism bequeathed to it by its founding editors.
The cornerstones of its editorial policy are national reconciliation, religious, ethnic and racial harmony which are reflected, among other things, in the composition of the editorial staff that represents a cross section of multi-ethnic and multi-religious Sri Lankan polity. The Sunday Observer not only provides the readers with news, views and features but also insightful articles, fulfilling its multiple roles as an educator, entertainer as well as uncompromising critic on socio-cultural and economic affairs.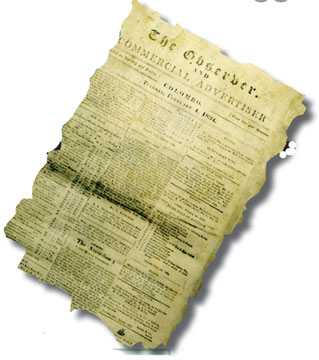 The anniversary is a seminal juncture to look back on the years it served the nation under diverse regimes. It has chartered a course through turbulent times always keeping the national interest at the heart of its editorial policy.
In its contemporary history, the Sunday Observer had to pass through dark passages in which some of its cherished goals were nearly sacrificed over parochial gains by parties with vested interests.
Reflecting on the past
Anniversaries are there not only to celebrate but also to reflect on the past. One of the journalist giants of our time, the late Ajith Samaranayake always reflected on friends and the past whenever he wrote his famous 'Sunday Essays' which was a very popular feature of the Sunday
In one of his 'Sunday Essays' Ajith wrote on June 23, 2002:
"There were old friends and new. If a nostalgic note is permitted a steadily ageing scribe it warmed my heart to meet old Lake House colleagues such as Neville de Silva come from London to cover himself with glory as well as give away the prize award of the evening named after his brother Mervyn, surely the doyen of us all whose third death anniversary we commemorate this month. There was also old 'Observer' staff T. M. K. Samat … who has taken sports writing to the heights of poetry."
Before reflecting on the 84th anniversary of the Sunday Observer, the great chronicle which has produced a group of popular and giants of journalists, it is noteworthy to reflect on Ajith and his time and particularly his writings for the Observer.
Dr. Sarath Amunugama delivering the inaugural Ajith Samaranayake memorial lecture reflected on his career from a cub reporter to parliamentary correspondent, columnist, Editor of a daily, Editor of a Sunday newspaper, and finally the editorial Consultant to Lake House recalled: "He was an English writer who made an indelible impression on the Sinhala art and culture of his time as a critic of literature, theatre, cinema and of contemporary society."
Of the Observer journalist I have heard and known that Ajith was unique.
He was bilingual and popular among the elite Colombo and proletariat left wing Sinhala unionist or Tamil journalists alike. Ajith never put a tag to a person's ethnicity or class.
He was capable of analysing a portrait of an anti-hero in Gunadasa Amarasekara's Premaye Sathya Kathava or share his emotions about the abduction and killing of the journalist and political columnist D. Sivaram in his essay. He wrote without fear or favour.
Luminaries of a rich tradition
Those who write without fear or favour in the Sunday Observer tradition were great Tarzie Vittachie, the famous Editor-in-Chief of the Sunday Observer, a distinguished Anandian who walked to the high ground of journalism and later served as the Deputy Executive Director, UNICEF in charge of Media and Information after his stint at Fleet Street and elsewhere.
Although I was not old enough to read his high profile column 'Fly by night' I found that it was as popular and controversial as his book Emergency '58 - The story of the Ceylon Race Riots which contributed largely to him receiving the prestigious 1959 Ramon Magsaysay Award for Journalism, Literature and Creative Communication Arts.
The Sunday Observer has produced illustrious journalists. Though the list would be a long one to spell out, among the distinguished journalists the Sunday Observer produced include the Sri Lankan Editors from H. A. J. Hulugalle to Ajith Samaranayake [H. A. J. Hulugalle (1930-1931), H. D. Jansze (1931-1952), Tarzi Vittachchi (1953-1961), Denzil Peiris (1961-1970), Ernest Corea (1970-1973), Lionel Fernando (1973-1977), Harold Peiris (1977-1988), Leslie Dahanayake (1988-1990), H. L. D. Mahindapala (1990-1994).
In addition, those who were directly associated with the Sunday Observer include Ajith Samaranayake, Lakshman Gunasekara, Rajpal Abeynayake and Dinesh Weerawansa.
Present Editor-in-Chief Dinesh Weerawansa is a career journalist. After Dinesh Weerawansa assumed editorship of the Sunday Observer, the newspaper had a marked improvement in its spirit and focus.
Montage, cultural paradigm
Montage, the cultural paradigm of the Sunday Observer in 2006 was founded on a proposal made by Indeewara Thilakarathne and Ranga Chandrarathne under the stewardship of the present Editor -in-Chief, Dinesh Weerawansa and with the patronage of Associate Editor R.S Karunaratne, a pioneer in cultural journalism in Sri Lanka.
Indeewara Thilakarathne (Deputy Features Editor) and Ranga Chandrarathne (Associate Features Editor) are the co-editors of Montage, the only literary supplement in Sri Lanka dedicated to high culture. Montage was conceptualised by Indeewara Thilakarathne and Ranga Chandrarathne at a time when cultural journalism suffered a lot against the wave of unbridled consumerism. Montage commenced with four pages which later increased to eight pages.A significant aspect of Montage is that it has, since its inception, attracted an international readership and foreign contributors such as Madeleine Whightman, postmodernist writers Pablo D' Stair and John Gardner, Internationally acclaimed academics such as Prof. Wimal Dissanayake and Prof. Yasmine Gooneratne, Dr. Binoy Campmark ,
Prof. Tara Brabazon and Dr. Sean Perera. The galaxy of Sri Lankan contributors include Dilshan Boange, Shireen Senadhira, Rushda Rafeek, Sivanandini Duraiswamy, Malinda Seneviratne, Mahendran Thiruwarangan, Ranga Kalugampitiya, Dr. Kandiah Sriganeshan, Dushy Parakrama. Our contributors from the Sri Lankan diaspora includes Sunil Govinnage and Dr. Siri Galhenege.
The finer and technically perfect output of diverse contents of the Sunday Observer is the result of the collective effort by diverse departments specialised in diverse segments of the newspaper.
Senior Associate Editor Pramod de Silva oversees the News Desk which functions with the cooperation of a group of sub-editors and a regiment of reporters with Senior Associate Editor Pramod de Silva, Deputy Editor S. Anandakumar and Chief Sub-editor Indunil Thenuwara, Development columnist, Shirajiv O Sirimane, Jayampathy Jayasinghe, L.S.A Wedaarachchi, Uditha Kumarasinghe, Manjula Fernando, Ranil Wijayapala, Assistant News Editor, Shanika S. Sriyananda, Ananda Kannagara, Dhaneshi Yatawara, P. Krishnaswami, Translator and sub editor K.D.M. Kittampahuwa and Jaliya Wijeyekoon, J. M. Naalir.
Dudley Jansz, Senior Chief Sub-Editor, who had the privilege of English education from his infancy, is an asset to the Sunday Observer. He is a conduit between the past and the present of the high standard of journalism fostered by the Sunday Observer.
The Sunday Observer editorial takes this opportunity to appreciate the life-long service rendered by senior journalist Buddy Gunaratne who retired recently as a senior Sub-editor of the Sunday Observer, to the English journalism in general and maintaining the high standards of journalistic tradition fostered by the Sunday Observer in particular.
Buddy belonged to a generation of journalists who stuck to the highest standard of professional journalism in Sri Lanka.
The business and financial news is gathered by the newspaper's Business Desk headed by maverick Surekha Galagoda, Deputy Editor -Business and a team of business writers; Gamini Warushamana and Lalin Fernandopulle.
Sports Desk which covers the field of Sports functions under the guidance of AC de Silva, Associate Editor (Sports) and a team of sport journalists; Ranjan Anandappa and Lesley Fernando.
The features' Section of the Sunday Observer functions under the stewardship of R.S Karunaratne, Associate Editor, Ranga Chandrarathne (Associate Features Editor) ,Indeewara Thilakarathne (Deputy Features Editor), Ruwan Godage (Features Editor), Fahima Farisz, Nilma Dole and Anuradha Kodagoda. Indeewara and Ranga are also the Co-Editors of Montage, cultural Paradigm of the Sunday Observer. Maryanne Perera edits the Junior Observer assisted by Rohana Jayalal and the Observer Magazine covers the 'popular culture'.
Experience
Journalist and broadcaster Mahes Perera's contribution is invaluable given the fact that newspaper is immensely profited from her experience both in the field of journalism and mass media such as SLBC in general and in the field of music in particular.
J. K. G. Puncihewa, the cartoonist cum artist is a veteran in the field of applied arts in Sri Lanka. His true to life caricatures and sharp-witted cartoons add value to articles and features making a lasting visual impact in the minds of readers.
His service is indispensable and over the years Punchihewa earned a name for himself and marked his imprint on Sri Lankan journalism as a caricaturist and cartoonist.
The layout department's contribution is an essential ingredient of the overall production process which adds as excellent appearance and texture to the paper. It functions smoothly thanks to the able stewardship of the Department's head Rajitha Udawatte (Design Editor) with its talented team of graphic artists including Graphics Executive,Mahil Wijesinghe, Chinthaka Balasuriya, Naveendra Merinnage, Roshinie Ranaweera, Saman Chandra Kumara and Asitha Bamunuarachchi. The smooth functioning of the editorial office is also due to much support from Editor's Secretary Sujani Perera and P.A. Sharon Palihawadana, Clerks Ravindra Jayaweera and Office Assistants Sampath Manamperi, Stanley Jayaweera, Chandima Munasinghe and Amila Chandrasiri.
Traditions
Despite the current tradition of high quality editorial and features now appearing in the Sunday Observer, the paper started as the Sunday Observer and Commercial Advertiser on February 4 , 1834.
Prior to the Sri Lankan Editors-in-Chief, the British served as Editors of the Observer. Among them were E. J. Darley who was in charge when the paper was launched, George Winter, Dr. Christopher Elliott, A. M. Ferguson (1859), John Ferguson (1867), R. H. Ferguson, Charles Tower, C. Drieberg (1923-1924), P. B. Marshall and J. D. Quirk.
When it was taken over by a generation of homespun editors who were on par with their English predecessors, they carried on the legacy, inspiring generations of readers and people of all from all walks of life.
We remember as students of Richmond and Ananda Colleges, waking up on Sunday morning to read our favourite columns and features of the newspaper in the 80s and 90s.
We used to read thought provoking feature articles and reviews by Ajith Samaranayake, Regie Siriwardena, Karel Roberts Ratnaweera and R.S Karunaratne.
One of the significant aspects of the English press in Sri Lanka was that it was read by the academia, artists, political elite, the members of the judiciary, business tycoons and the English educated civil servants and teachers. The Sunday Observer is the centre of attraction.
The other important specialised areas that attracted readers across the social strata are areas such as Sports and Finance and political commentaries.
Although a host of rival publications emerged into the newspaper arena over the years, The Sunday Observer retains it undisputed position as the most widely read English weekly in Sri Lanka.
The readership would be more than the circulation of printed papers given the large number of visits to the Sunday Observer web edition which has become an essential read among expatriate Sri Lankan community.
The Photo Department of the Sunday Observer comprises Chinthaka Kumarasinghe, Thilak Perera, Vipula Amerasinghe, Susantha Wijegunasekara and Kavindra Perera.