Online eBook store launched
BookHUB an ebook store was officially opened to readers marking a momentous milestone in Sri Lanka's publishing history.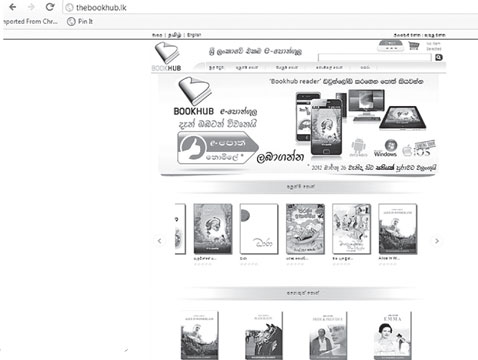 Spearheaded by Etisalat, Microimage and M.D. Gunasena, BookHUB has been launched a month after its announcement. The BookHUB website www.thebookhub.lk and the reader for Android smart devices and PCs were launched in the presence of Secretary to the President, Lalith Weeratunga and Chairman State Trading Corporation, Pradeep Gunawardana.
The eBook store will launch over 25 titles and aims to reach a 100 in a month. eBooks bought through the online store will be priced lower than the hard copy.
Purchases can be made through the use of Etisalat preloaded cards and credit cards, irrespective of the mobile service provider or Internet provider.
Etisalat's CEO, Dumindra Ratnayaka, said, "This is a landmark occasion for Etisalat and for publishing in Sri Lanka. We finally have a chance to be a part of the global phenomenon of eBooks that has spread through the increasing popularity of smartphones, tablet PCs and eBook readers.
This innovation will not only see Sri Lankan literature becoming easier to preserve, distribute and read but will also help take it to reach a global audience. The ones to benefit will be local authors and reading enthusiasts of today and for generations to come" eBooks and eBook readers have become a global phenomenon as the rise in smart phones and mobile devices have led consumers to look to satisfy an ever-increasing segment of their needs through them.
Sri Lankan publishers and authors haven't been able to take advantage of this innovation though, because the cost of hosting books on major international eBook stores is too steep.