IFC trains bankers to strengthen trade finance in Sri Lanka
IFC, a member of the World Bank Group, has hosted a trade finance training program for Sri Lankan bankers, part of an effort to help local entrepreneurs tap into the global marketplace.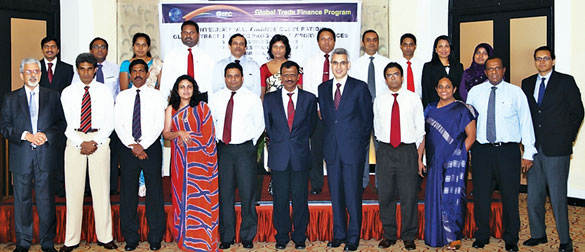 The training, held in March, explored the potential of trade finance, which helps businesses connect with international customers and suppliers, spurring trade and economic growth. The initiative is part of IFC's $ three billion Global Trade Finance Program, which supports banks in emerging countries as they channel credit toward trade-related transactions.
Training programs focusing on trade finance play a vital role in boosting Sri Lanka's financial sector, Deputy Governor of the Central Bank, Ananda Silva said, "Bankers in the country need to be up to date on new trade products and opportunities to increase external trade."
During the five-day program, participants learned about structuring basic and complex trade finance transactions, improving risk mitigation techniques, and upgrading the operational and technical skills of trade finance back offices.
The training also featured sessions on documentary credit, international sales contracts, trade finance rules, and guarantee instruments.
"We are pleased to host this training in Sri Lanka, due to the increasing interest from banks here to engage with IFC on trade finance,"said IFC Country Manager for Sri Lanka and the Maldives,Adam Sack.
Through such training programs, we will boost the ability of banks to support businesses and drive economic growth.
Established in 2005, the Global Trade Finance Program has issued 11,700 guarantees for $16.5 billion.
In Sri Lanka, IFC has partnered with four banks for this program. Additionally, the program has delivered 159 training modules over the last six years, and trained more than 4,225 bankers from over 50 countries.
Sri Lanka is a priority country for IFC. IFC's committed portfolio of $200 million covers projects across a range of sectors, including infrastructure, tourism, renewable energy, finance, and health care. IFC also provides advisory services to promote sustainable growth among small and medium enterprises by facilitating access to finance and offering capacity-building and training opportunities.