Tax on foreign milk powder will boost local dairy industry
The tax imposed on imported milk powder by a further 15 percent or Rs 92 per kilogram, will increase prices further and as a result consumers will go for liquid milk produced by domestic dairy farmers, analysts said.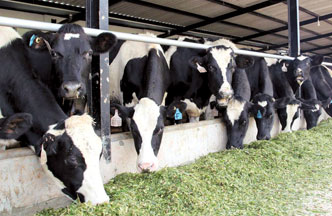 The Government took this decision after dairy farmers staged a protest by throwing fresh milk as they failed to sell it.
The local dairy industry has been growing in recent years with strong Government support, including mandated high farm gate price. However, today fresh milk is out of reach of the affluent consumers. Local milk powder producing companies too faced an issue as the cost of production is higher and their products are not competitive.
Analysts said that milk product based industries have not developed parallel to the dairy farming and is the main cause for the issue.
They also advocate the removal of price control on fresh milk allowing the market to function freely. Lower prices would encourage the consumption of fresh milk and reduce protein malnutrition among marginalised people. They said that the price increase would affect consumers and nutrition of the people because the majority of consumers depend on milk powder and the popularisation of fresh milk takes time.
According to this price revision, the retail price of a 400 gram packet of milk powder will increase from Rs.260-265 to Rs.297-302. Importers are demanding a price increase in milk powder as cost of imports has sharply increased with the depreciation of the rupee.
The Finance Ministry said that the tax increase was to encourage and protect the local dairy industry as well as to discourage the import of milk powder. Sri Lanka imports 84,000 metric tones of milk powder annually at a cost of Rs 36b .