Mahinde Thamai Iskole
Sundara Nihathamani de Mel's Mahinde Thamai Iskole will be launched at the Sri Lanka Foundation Auditorium, Colombo 7 on May 10 at 4 p.m.
Dr. Nihal Somarathne of Peradeniya University, Prof. Sunanda Mahendra, Prof. Dhammika Ganganath Dissanayake, Sumana Saparamadu, Dr. Ariyasena U. Gamage, Saman Athaudahetti and Saman Wickramarachchi will represent Ananda College, Dharmaraja College, Visakha Vidyalaya, Richmond College, Royal College and Central Colleges.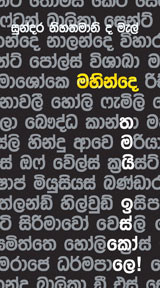 Most of us have very fond memories of school life. We belong to a generation who had a wonderful childhood too. They have chosen and built their career on the bulk of experience they gathered at school. Editor of Lakbima Irida Sangrahaya, Sundara Nihathamani de Mel's life too had been shaped and the foundation stone of his future life had been laid by his alma mater Mahinda College, Galle. There is a very strong bond he had with his school.
Mahinda has produced many students who had shone and given a great contribution in most of the social and economic changes in the country during the past century. Sundara has unfolded his story on all his live experiences at Mahinda in his book.
Present day students are trapped in the schooling system and are less fortunate as they are not exposed to this kind of experiences. Not only a student, but also an adult could walk back to his childhood while reading this book. As a popular columnist Sundara has mixed humour and his usual style in writing the book. He has not reserved anything for himself. He has generously shared all what he has felt as a student with his readers.
He has unfolded his story in 42 chapters. Many pages of the book have been reserved for his readers to understand that when it comes to national issues Mahinda College should not be excluded. One of the main stories in the book is how the National Anthem was composed. It was composed by Ananda Samarakoon who was the music teacher of Mahinda College at that time. The honour of singing it first should go to a group of students of Mahinda College. They sang proudly, the words written on a blackboard along with their master.
Although Sundara was not among the group of students he has a very close relationship with his alma mater.
During the Dudley Senanayake regime Eduction Minister I.M.R.A. Iriyagolla submitted a proposal to close mixed schools despite strong objections. Sundara was one of them who had objected to the proposal. He wrote an editorial to his school newspaper 'Pabalu', against it. It became a controversial issue that finally led to the banning of the newspaper and students had to recall the copies already distributed.
Later the student who wrote the controversial editorial became a newspaper editor. He became the first Mahindian editor of a national newspaper after the great journalist D.B. Dhanapala.
There are lots of interesting stories about school cricket matches in the book. The well-known school cricket match between Mahinda and Richmond College is known as "Lover's quarrel". Sundara has written many stories of behind the scene relating to annual matches. He draws the reader's attention to the record of Amendra brothers. Diplomat Prasad Kariyawasam's at High Commissioner of India) set a balling record playing for Richmond College.
Sundara draws the reader's attention to the field of education as well. For instance, Nihal Somarathna of Mahinda College established a record obtaining the highest marks in the A/L examination.
---
The Legacy of Shantiniketan
A program to celebrate the 150th birth anniversary of Rabindranath Tagore, The artistes of Sri Lanka such as Weerasena Gunathilake, Thilini Rodrigo, Charith Perera Pradeep Rathnayake and Chandana Wickramasinghe will pay tribute to Gurudev Rabindranath Tagore with their artistic skills in music, dance and choreography on May 8 at 6.30 p.m at the a the Buddhist Cultural Centre's auditorium Sri Sambuddhathwa Jayanti Mw., Colombo.