PHIs to ensure hygienic condition of Dansalas
The Public Health Department of the Colombo Municipal Council will ensure that food hygiene is maintained at Dansalas in the city during the Vesak season.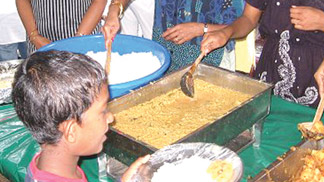 Action will also be taken to check sound pollution due to loud speakers, the Chief Medical officer Dr. Pradeep Kariyawasam told the Sunday Observer.
People have been asked to apprise the location of the Dansalas in the city to the MOH office in the area to enable Public Health Inspectors to inspect such places.
People have informed where Dansalas are located and PHIs have inspected them in the past four days to advise the organisers to ensure that proper food hygiene is maintained," he said.
"We are checking on the food quality water supply, and the health condition of those who prepare these meals", Dr. Kariyawasam said.
"We are also concerned about waste disposal and have asked some organisers to change the location of Dansalas if it blocked the drainage lines or else have asked them to cover the drainage line before setting up the Dansala", he said.
"We have deployed four teams of Public Health Inspectors from yesterday to inspect these Dansalas in the city.
There were more than 200 Dansalas last year in the Colombo city limits and there may be a similar number of Dansalas this year too. "Many organisers have sought our assistance in writing to ensure food hygienic levels are maintained," he said.
"This time we are more concerned about sound pollution and asked many organisers of these events to minimise the noise of loud speakers to prevent sound pollution", he said.