No aircraft fuel without quality certificate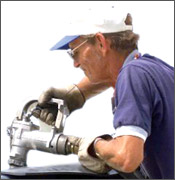 No fuel will be issued to aircraft without a quality assurance certificate, said Petroleum Industries Minister Susil Premajayantha.
The laboratory tests conducted by the Ceylon Petroleum Corporation (CPC) had revealed that 7,500 MT of the 20,000 MT received on April 27, 2012 were not up to standard. The export company Singapore British Petroleum (BP) in talks with the CPC agreed to treat the 7,500 MT fuel as kerosene oil, the Minister said.
The Government appointed a committee and obtained a full report on the issue. There was nothing amiss in the oil transaction, the minister said.
The minister said that the Government received a discount of over Rs. 1.7 million for the rejected stock when it accepted the 12,500 MT. The demmurrhage charges over Rs. 1.5 million will also be charged to BP since the ship had been anchored for three days.
The minister said that aviation fuel and kerosene oil belong to the Dual purpose fuel group.