Move to prevent Indian fishermen crossing IMBL :
T'Nadu steps up security to check smuggling
Tamil Nadu has intensified security along its entire coastal belt based following intelligence reports of increased smuggling between India and Sri Lanka. It is also aimed at preventing Indian fishermen from crossing the International Maritime Boundary Line (IMBL) between the two nations.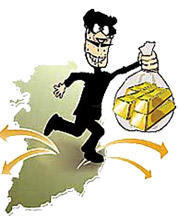 As an initial step to curb enhanced smuggling, 30 more marine police stations are being set up in Tamil Nadu to bring the state's entire coastal belt under close vigil, a top police official in the State said.
The State already has the specialised Q Branch, which investigates infiltrations into Tamil Nadu by suspected LTTE cadres from Sri Lanka.
Steps are also being taken to modernise the police force in Tamil Nadu, Additional Director General of Tamil Nadu Marine Police Shylendra Babu told reporters in Rameswaram, PTI reported.
Babu who had been visiting the coastal areas said marine police stations would play a key role in preventing fishermen from crossing the IMBL and stop smuggling between Tamil Nadu and Sri Lanka.
He said fishermen in distress could call the Marine police helpline No. 1093 and assured immediate help.
An example of the activities expected to be curbed by the enhanced police presence was reported from Nagapattinam, Tamil Nadu on Friday. Some 16-kg of cannabis was seized and four persons, including a Sri Lankan national were arrested in this connection, TN police said.
The four were found possessing narcotics and trying to smuggle it to Sri Lanka from Velankanni.
The four arrested have been identified as Dinson (30), Sudarsan (33) and Devaroopan (24) (all three are Sri Lankan Tamil refugees) and Anton (34), a Lankan National.
The Q branch of Tamil Nadu police, which deals with extremist activities, seized the packets of ganja and handed them over to the Narcotics Intelligence of TN police.
Five persons, including a person of Sri Lankan origin, were arrested and 6.6 kg heroin worth Rs. 100 million (Sri Lankan rupees) in the international market seized from them, Directorate of Revenue Intelligence of India officials said yesterday.
The seizure was made when DRI officials checked the bags of four persons, including two women from Bhopal, who arrived at the Central railway station by the Tamil Nadu Express yesterday.
"Each bag had a false bottom in which about 1.6 kg heroin was found concealed in a polythene bag," a DRI release said. DRI officials identified and intercepted the kingpin, a person of Sri Lankan origin, who had come to receive the drug.
The total weight of the seized heroin was about 6.6 kg, the release said. In related searches, packing materials used for the onward movement of the drug, the car used by the Sri Lankan national and Rs. 4.3 lakh in cash were also seized, it said.
The arrested have been remanded to judicial custody, the release said, adding the value of the seized heroin is around Rs. 100 (Sri Lankan rupees) in the international market.