Joe Abeywickrama the actor extraordinaire
His quintessential simplicity in appearance and the outstanding theatrical performance have impressed almost three generations. He splendidly represented the great tradition of Sinhala cinema and his death left a serious vacuum in Sri Lankan cinema. During his extraordinary lifetime of acting, his image achieved immortality in the hearts of Sri Lankan cinema lovers. His great gift for acting, though untrained by formal schooling of any recognised institution, carried him to effortless victory in the field of cinema.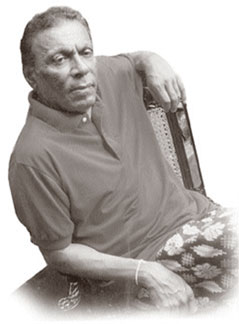 His fine sense of humour and surprising witticism in a number of immortal cinema dialogues immediately raise the spirits of the most moody and the most serious viewers. Thus, the real artiste in him was not the outcome of any methodical training in arts but the unmistakable product of his intuitive calibre and the campestral upbringing. He breathed his last on September 21, 2011 and this September marks his first death anniversary.
Inspired
Gammana Patabendige Don Joe Abeywickrama was born in Lellopitiya - Ratnapura on June 22, 1927. His father, who had been in close companionship with John D'oyly named him John Abeywickrama as a tribute to his friendship with John D'oyly. Later, Don John Abeywickrama became Don Joe Abeywickrama in a more fashionable way. His profession as a clerk at the studio "Nawa Jeewana" founded by Sirisena Wimalaweera marked a major turnaround in his life and his ruling passion to become an actor.
The theatrical performance by Laddie Ranasinghe who was by now a pioneer actor, greatly impressed Joe Abeywickrama and nourished his current of thought. Accordingly, he made his bebut in the film "Deva Sundari" by M.H.M. Munas.
Humourist
By the time Joe Abeywickrama entered the cinema scene, the Sri Lankan cinema had been invaded by south Indian trends and styles. Going against the strong imitation of Indian actors, he showed independence in his style of acting attitudes and total identity. That is precisely what is special about him. His earlier roles in films were largely framed around the typical Sri Lankan humorist and his unique acting offered him massive image as a superb humorist. His comic acting in movies such as "Allapu Gedara" is unquestionably ranked matchless because his capacity for honour was fortified by social experience. He gave a pleasant rural colour to what he was to portray.
"Shri 296" screened in 1956 and directed by Premanath Moraes feature him as a comedian detective that won a greater applause from the viewers. By 1960s, Gamini Fonseka had introduced realistic acting to Asian Cinema and Joe Abeywickrama opened new dimensions in these trends. In films such as "Allapu Gedara", "Gatawarayo" he demonstrated a unique style of comedian that contrasted drastically with the style of conventional Sri Lankan comedian played by Eddie Jayamanna, Hugo Fernando or Christie Leonard etc.
Actor extraordinaire
In the process of acting out a certain character he was assigned, Joe Abeywickrama drew heavily from his treasury of experiences, intuition, nature and from close observation of ordinary men. For the first time, film critics and audience were kept spell bound by his portrayal of humanity peppered with humour in the film "Saara Vita". Gunahami, immortalised by Joe, is a complex blend of humanity and humour and here Joe fundamentally changed comic acting in Sri Lankan cinema.
His imagination easily defined the character he played because he was the most excellent character actor in Sinhala cinema. With the self same calibre that he displayed in acting comic characters, Joe Abeywickrama immortalised serious characters in films such as "Purahanda Kaluwara" (Vannihami), "Siribo Ayya (Siribohami)", "Beddegama (Silindu)", "Soldadu Unnehe (the soldier)" and "Weli Kathara."
The film "Saravita" marks the climax of Joe Abeywicakrama's comic acting which is probably ranked superlative in the mould of the performance by Charlie Chaplin or Raj Kapoor in India.
His comedian first makes the spectator laugh and then reflect on the harsh realities of life because his acting is well peppered with a shadow of humanity. His sense of humour transparently contrasts with that of many comic actors who often fail to take the viewer to the depth of laughter and fun. Here Joe Abeywickrama successfully brings an unsuspected comedic touch to his roles.
In "Welikathara" (Directed by D.B. Nihalsinha) Joe Abeywickrama deviates dramatically from the typical comedian and portrays the anti hero. His acting intuition and potential developed positively and found free expression in Nihalsinha's "Welikathara". In this film he was co-starred by Gamini Fonseka displaying equal eminence and performance in confrontation with that of Joe Abeywickrama.
According to Dharmasena Pathiraja, Joe Abeywickrama possessed a rare potential for being a character actor and he was ever prepared to accept any challenge as far as complexities of a character were concerned. His acting was so realistic that he was a real fishseller in "Bambaru Ewith", a real villager in "Beddegama", Siribo Ayya', a real Mudalali, in 'Welikathara' a real antihero in 'Purahanda Kaluwara'.
Award
"Purahanda Kaluwara' directed by Prasanna Vithanage brings the climax of Joe Abeywickrama's theatrical performance which merited an international award. The Singapore International Film Festival (1999) granted him the award for the best actor (Vannihami). This is the first Sri Lankan actor on the international cinema scene. Moreover, Joe Abeywickrama was the first actor to represent Sri Lanka at Film Fare Festival in 1965.
Contribution to Teledrama
He acted in musical dramas such as 'Berisil (1960 Premasiri Khemadasa), and 'Kele Kella' (1962). His intrinsic talent for acting was brought out in another dimension when he appeared in popular teledramas such as 'Andu Kola', 'Vanas Pathi', 'Gamperaliya', 'Sakisanda Eliyas' and Esala Kaluwara'. He was the vocalist for the song in the teledrama "Thahanchi|" and he even wrote lyrics for some songs.
From 1957 upto 2010 ('Tikiri Suwanda') he has portrayed varying characters in almost hundred and seventy one films.
Furthermore, he has bagged forty awards at Sri Lankan film festivals and has penned a novel "Maha Bambata Muhunu Dekai" (Maha Brahma has twin faces").
Joe Abeywickrama is the non pareil actor who was expert in character acting and has grasped different aspects of life and society to flavour his performance. He is the actor extraordinaire who is capable of producing multiple facial expressions within seconds.