Lanka exports tractors to Swaziland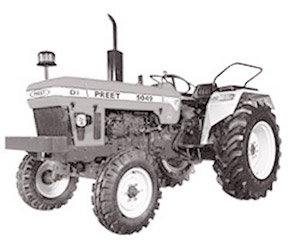 A Sri Lankan company has shipped 40 tractors to Swaziland, which are designed to cost less, but help farmers get optimal crop production.
Swaziland King Mswati III was presented with one of the tractors by the company, which has already opened a manufacturing and assembly factory in the African nation.
The project by the EDNA Group is one of the fruits of the Swazi King's recent visit to Sri Lanka. Their local branch is situated at the Matsapha Industrial Site.
Chairman of the EDNA Group Lal Edirisinghe said a new tractor costs E23,000. When it comes with components, which includes a planter, plough, dresser and others, it costs about E39,000.
The King was shown the tractor at the Lozitha Palace where he appreciated it.
"We have already shipped 40 tractors to Swaziland and 100 are on the way. For now we will be specialising in the assembly plant, but soon we will also start the manufacturing plant."
He said the tractor could be used even as a water pump as well as an electric generator.Swaziland Investment Promotion Agency (SIPA) acting Chief Executive Officer Phumelele Dlamini said farmers were encouraged to buy the tractors as they are cost-effective and can be used for many purposes.
-Times of Swaziland