13 A meaningless, we rejected it – TNA MP
Sajin questions Sumanthiran's double standards :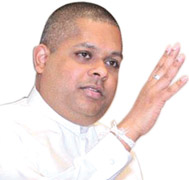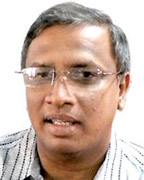 Tamil National Alliance (TNA) parliamentarian M.A. Sumanthiran admitted that the 13th Amendment to the Constitution is 'meaningless' and that the TNA had rejected it right from the start.
Parliamentarian Sumanthiran made this statement in Parliament on November 9, though it was not highlighted in the media. "The Thirteenth Amendment to the Constitution is something that we had rejected right through as being meaningless," the TNA Member of Parliament told the House.
UPFA parliamentarian Sajin De Vass Gunawardena questioned Sumanthiran on the TNA's stance on the 13th Amendment, on the same day. But Sumanthiran interrupted Gunawardena. Vass Gunawardena told Parliament on Friday that he would be making a statement on Sumanthiran's views expressed on November 9 and requested Sumanthiran to be present in Parliament on Saturday (17). When Vass Gunawardena questioned the TNA MP's double standards and raised questions on his stance during the second reading of the Budget 2013 yesterday, Sumanthiran was not present in the Chamber.
Though Sumanthiran was present in the Parliament Lobby, he evaded facing Vass Gunawardena and answering questions on the TNA's stance on the 13th Ammendment.
MP Vass Gunawardena said the TNA has not been united in finding a solution to the aspirations of the Tamils as various MPs express different views from time to time. "Sumanthiran tells one thing and his leader R. Sampanthan tells another. Until they are united, it will be difficult to find a solution to the problems of the people in the North and the East," he said.
Meanwhile, Sumanthiran had even demanded the abolition of the 13th Amendment since it is meaningless.
"If not, there will be no purpose in the 13th Amendment remaining in the statute books and it can be abolished," he wrote to the blog dbsjeyeraj.com on October 28, 2012.