Sokari at Punchi Theatre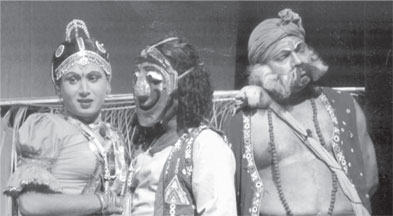 Jaliya Rajapakshe's Sokari, an old folk drama in Sri Lanka, will be staged at the Namel Malini Punchi Theatre, Borella on December 2 at 3.30 pm and 6.45 pm.
---
Safeer on training mission
Veteran dramatist M. Safeer and young Dramatists of Inter Act Art black box team S.Dayalan, Thivanka Ranasinghe, Reggie Chandima and the drama translater Jayalath S. Gomes will be leaving the Island on November 28 for Flame, school of performing art in Pune, India to train the final year students of the university on the modern performing art and to Create a Theater Production.
M. Safeer and the team will spend about four weeks with the final year students teaching them about the modern trends in Theatre art, Movement, flexibly of the body and its usage for dancing and will produce a Theatre Production which will be perform at the university at the end.
This is the first time a Sri Lankan Theatre group has been invited by a foreign country. M.Safeer is the pioneer to introduce Black Box Theatre to Sri Lanka and is the person who organised the first ever International Theatre Festival in Sri Lanka in 2012.
---
Exhibition of Sri Lankan Art 2012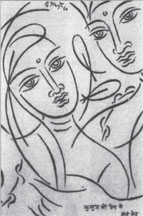 The George Keyt Foundation in association with Nations Trust Bank and American Express Cards will hold an exhibition of Sri Lankan Art 2012 at J.D.A. Perera Galleries, Horton Place, Colombo 7 from November 27 to December 2.
Dr. Lester James Peries and Mrs. Sumitra Peries will be chief guests at the preview on November 26 at 6 pm.
The exhibition will be open from 10 am to 6.30 pm.
---
Lecture on English literature
Prof D.C.R.A. Goonetilleke will deliver a lecture on the Interface of English Literature, Language and Politics in Sri Lanka, at the Gamini Dissanayake Auditorium, Ananda Coomaraswamy Mawatha, Colombo 7 tomorrow at 5 pm. Prof Goonetilleke is a leading authority on Sri Lankan literature in English.
His books on the subject are Sri Lankan English Literature and the Sri Lankan People 1917-2003, Kaleidoscope; An Anthology of Sri Lankan English Literature and Kaleidoscope, Volume 2, all published by Vijitha Yapa. The lecture is organised by the Royal Asiatic Society of Sri Lanka.
---
Kurulu Paradeesaye at BMICH
Lanka Shantha and Sunil Shantha Society will present a musical concert titled Kurulu Paradeesaye at the BMICH on November 28 at 6 pm to mark veteran singer Ivor Dennis' 80th birthday.
Ivor Dennis, T.M. Jayaratne, Nalini Ranasinghe Edward Jayakody, Nelu Adikari, Darshana Pramod Nissanka, Lesley Fernando and Amali Devmini Fernando will participate in the program. Prof. Kolitha Bhanu, Dissanayake will deliver the keynote address.
---
Romaya Ginigani
Bandula Vithanage's latest drama Romaya Ginigani will be staged at the YMBA auditorium, Hatton on December 6 at 11 am and 6.30 pm.
The cast includes Sampath Thennakoon, Ratna Lalani Jayakody, Bandula Vithanage, Ayesha Dissanayake, Upali Bandara, Thilini Priyanvada and Ishara Wickramasinghe.
---
Balloth Ekka Bae at Punchi Theatre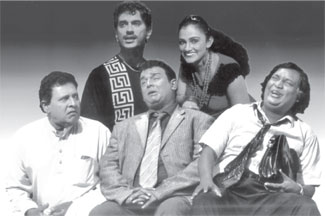 Ravindra Ariyarathne's Balloth Ekka Bae will be staged at the Namel Malini Punchi Thatre, Borella on November 30 at 3.30 pm and 6.45 pm. The cast includes Wijaya Nandasiri, Kumara Thirimadura, Roshan Pilapitiya, Gihan Fernando and Anusha Disanayaka.
---
SOSL Christmas concert
The annual Christmas concert by the Symphony Orchestra will be held at the Ladies' College Hall on December 15 at 7 pm.
The orchestra will be conducted by Dr. Ajith Abayasekera and will feature the Soprano Menaka de Fonseka Sahabandu and the Menaka singers.
The program includes not only popular Christmas Carols but also the Hallelujah Chorus by Handel, the overture to the Merry Wives of Windsor, Elgar's Pomp and Circumstances No 4 and the Carol Fantasia by John Fox.
---
'Open Air' art exhibition at Harold Peries Gallery
Ifthikar Cader will hold an exhibition of his paintings entitled "In the tradition of Plein-Air Realism" at the Harold Peiris Gallery, Lionel Wendt on December 8 and 9 from 10 am. to 7.30 pm. "Plein Air" painting is French for "open air" where the artist has to capture the essence of the scene quickly before the light changes and affects colours in both shadows and lighted areas. Today, especially in the USA, the UK and Europe plein-air is gaining popularity by leaps and bounds.
Ifthi uses the finest of materials to paint and will not substitute quality. Most of his paintings are on linen canvas but he also sometimes uses good quality cotton canvas made in the USA.
He also uses Artist Quality Colours which is the highest grade available and Winsor Newton painting medium to thin his paints.
---
Sudu Lihiniyo goes to Tower Hall
Sunil Samarakoon's Sudu Lihiniyo will be staged at the Tower Hall on November 29 at 3.30 p.m. and 6.30 p.m. The cast includes Lakshman Arachchige, Ajith Kotuwila, Sanju Divaratne, Thilakaratne Liyanage, Damian Jayalath and Surangi Nirushani.
---
Ashoka Handagama
As a filmmaker I appreciate the efforts by the European Union every year to organise the European Film Festival.
Ini Avan will be screened in theatre halls in France from February 2013 and in Sri Lanka it will be screened at the EAP film circuit from December.
---
Angara Ganga Gala Basi
The Muhurath ceremony for the new production of the popular drama Angara Ganga Gala Basi was held recently. It is directed by Ranjith Dharmakeerthi. The cast includes Sunethra Sarachchandra, Neil Alles, Nissanka Diddeniya, Jayalath Manoratne, Elson Divituragama, Daya Alwis and Somalatha Subasinghe.
---
Kottitha Sutra

Wasantha Namaskara's latest exhibition entitled Kottitha Sutra will be held at the Sri Sambuddhatva Jayanthi auditorium, Ampitiya, Kandy from December 1 to 30.
---
Divi Magata Alokayak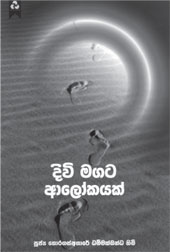 Ven. Horagasare Dhammakkhanda Thera's latest book Divi Magata Alokayak will be launched at the Dayawansa Jayakody Bookshop, Colombo 10 on December 4 at 10 a.m.
It is a Dayawansa Jayakody publication.
---
Muslim Law of Succession, a guide in English
Al-Ameen Law Report Vol. V – 2012 – English Muslim Law of Succession – A Guide in English and Al-Ameen Law Report Vol. V will be launched on December 2 at the Hotel Ranmuthu, Colombo 3.
The chief guest will be Justice Saleem Marsoof PC, and the guest of honour Shibly Aziz, past president of the Bar Association of Sri Lanka.
Ikram Mohamed PC and Wijedasa Rajapaksa PC, MP, President BASL will review the books. Faisz Musthapha PC will preside.
The books deal with the Muslim Law of Succession which is a complex subject.
The Law Report is the fifth volume of decided cases of the Board of Quazis, Wakfs Tribunal, Court of Appeal and the Supreme Court.
---
Vidyava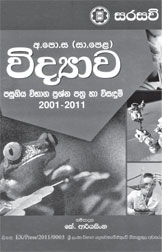 K. Ariyasinghe's Vidyava is a collection of G.C.E. O/L Science question papers, from 2001 to 2011 with model answers. It is a Sarasavi publication.
---
Padaruth Vidi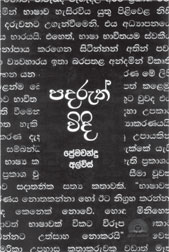 Premachandra Alwis's latest book Padaruth Vidi is a useful guide for journalists, writers and students who wish to write grammatically correct Sinhala. He gives copious examples to illustrate how the language has been misused by those who should write good Sinhala.
Padaruth Vidi is a Sooriya publication.