Call to convert waste into an asset:
Bio-gas for cooking is environment-friendly, less expensive:
Shot in the arm for bio-gas project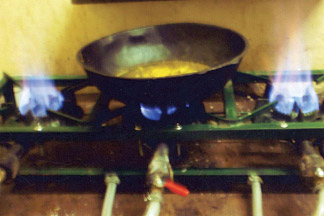 Cooking meals using bio-gas at the Ragama Medical Faculty
Fertiliser from a bio-gas unit to plant vegetables.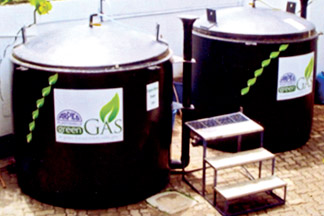 Two bio-gas units Pix: Saliya Rupasinghe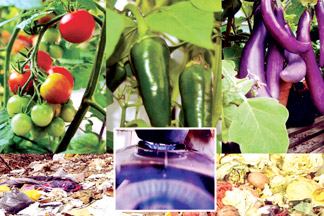 Fertiliser from a bio-gas unit to plant vegetables.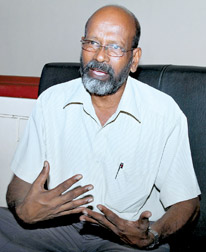 Srimal Tissera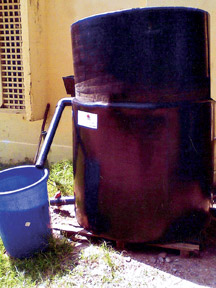 First bio-gas plant installed at the SLBC premises.
People used firewood, charcoal, fossil fuels or electricity for cooking purposes until the latter part of the last century. Eventually they replaced them with LP gas.
Gas is a by-product of crude oil. According to current statistics 75 percent of the people worldwide use gas for cooking, burning and heating purposes.
Sri Lanka's main Liquefied Petroleum Gas (LPG) producer, the Ceylon Petroleum Corporation (CPC) says that the company produces only 10 percent of the country's internal demand and as a result the country depends on imported LPG to bridge the gap between the demand and the limited production.
The Central Bank annual report says that Sri Lankans used 195, 000 metric tonnes of LP gas in 2011 and predicted that 250,000 metric tonnes of LP gas would be needed in 2013.
Records also indicate that 90 percent of the people in the country use LP gas for cooking and only 10 percent are using electricity, as we know, electricity is more expensive than LP gas.
The reality is, the cost of LP gas too is increasing gradually. As a result the time has come for us to go for an alternative instead of using LP gas, electricity or even firewood. Using firewood means destroying valuable forests. Forest destruction will affect the rainfall.
The country maintains its green environment to the maximum and this situation helps us to produce our own cooking gas by using our own raw material. The question is how many of us would toil at least to experiment whether we could produce gas with the available raw material.
The Sunday Observer last week visited several places in the city and suburban areas to view the process of manufacturing gas by housewives. The same gas is also used by hospitals, banks, hotels, restaurants, factories and universities. This particular gas is not manufactured from crude oil but is manufactured completely by using local raw material.
Generally, when a person manufactures something, he should pay for the raw material, but the raw material used to produce this gas is available free.
One will be interested to know what this freely available raw material is. It is found everywhere, in your kitchen, in the garden, on the roads, highways, at market premises or in the hotel bins. The raw material is none other than waste, such as fruit waste, vegetable waste, kitchen, market or bakery waste, or any other organic matter that people throw away.
In addition, used tea leaves, old bakery products, grass cuttings from the garden, spoilt grain, fruits that are not suitable for human consumption, spoilt poonac, seeds that are not edible, papers in pulp form, salvinia plants, water hyacinth (Japan jabara) and all other organic waste.
Our visit to the Faculty of Medicine in Ragama to watch the process of manufacturing gas from waste is truly unforgettable. It is surprising to see how people convert waste into a better purpose.
I remembered the sentence " Waste is an asset to us" written in large English letters near the Kandy Railway Station. A little girl asked her father how waste can be an asset. The father replied that if waste is used in a proper way as in many other countries it could produce gas and fertiliser.
As we are aware waste when rotten pollutes the environment and causes various diseases, mosquito breeding grounds and release an unbearable stench. Therefore, if one takes an interest to produce gas and fertiliser from waste, he could easily help create a green environment.
Although we have heard about the method of producing gas from waste, it was the first time that we saw how food is cooked from gas, produced by waste.
The Dean of the Medical Faculty, Ragama, Rajitha Wickramasinghe explained to us everything about the newly installed Bio-gas unit and the importance of having such a unit even in homes or hotels. He introduced the inventor of this environmentally friendly green gas unit, Srimal Tissera.
A product of Thurstan College, Colombo, Srimal has won the certificate of merit in the field of 'Public Welfare' at the Presidential Awards of 2010 for his invention of the compact bio-gas plant.
The bio-gas plant has an artificial stomach, similar to a human stomach. The plant contains a pipe fixed by the side of the unit which acts as a feeder where the waste is fed into the tank. The waste then travels to the top tank where it is digested. After the waste is digested, it travels down to the centre of the tank and starts to get fermented, and gas is formed. There is an outlet in the unit for gas to be obtained.
When interviewed, Tissera said most bio-gas plants in Sri Lanka are designed for cow-dung and other animal manure as the main feedstock and they are used in rural areas. The majority of the people in urban areas use LP gas , kerosene or electricity for cooking. Therefore, it is an advantage to own a compact bio-gas system in homes or hotels as it would help save the daily expenditure to a great extent.
Using bio-gas to cook the daily meals is an environmentally friendly cooking system for housewives. bio-gas could be used not only for cooking, but also for lighting lamps in the same manner as petromax lamps and also to operate crematoriums.
When we visited the Ayurvedic Research Institute at Navinna to view a bio-gas plant, a senior official of the institute explained how they were able to reduce 50 percent of the cost spent on cooking meals for the labour force.
Tissera said his bio-gas units are currently used in over 100 Government and private institutions in the country, including the Faculty of Science, Colombo University, Southern Development Authority, BMICH, Colombo, Maliban Biscuits Ltd, Serendib Hotels and the CEB Training Centre, in Kalutara.
Tissera said he had brought his invention to the notice of several senior officials of the Environment Ministry, the Central Environmental Authority and the Sustainable Energy Authority, but nobody has paid any attention to give him a helping hand to develop the industry.
He said he visited several countries including India, Vietnam and Thailand to view bio-gas projects and said that the structure may be similar, but the technology is totally different.
Tissera said this newspaper article would help all countrymen including responsible Government officials who love a pollution free environment to expand the bio-gas projects in Sri Lanka.
(Srimal Tissera could be contacted on email: tisserajhs@gmail.com)