Dialog launches first commercial 4G -LTE service
Sri Lanka 's Telecommunications Sector entered the 4G era today with the launch of Commercial LTE Services in the city of Colombo by Dialog Broadband Networks (DBN) the Fixed Telecommunication Services arm of the Dialog Axiata Group. Dialog's cutting edge broadband network is based on 4th Generation TD-LTE technology, and represents quantum advancement in Fixed Broadband services delivered to Sri Lankan homes and enterprises. Commencing with the city of Colombo at launch, Dialog's LTE network will be made available across all major cities and towns in the country in the immediate future. Powered by the very latest in High Speed Wireless Broadband technology, Dialog's LTE network facilitates a simplified Home or Office Broadband experience for Sri Lankan consumers.
The LTE Home/Office device provided by Dialog enables "Plug and Play" connectivity to the LTE network and comes complete with in-built Wi-Fi, 4 Local Area Network (LAN) Data Ports, a USB port and the option of 2 Voice (Telephone) lines.
With Home/Office Wi-Fi coverage built in as a standard feature, connectivity to Dialog's LTE network enables the transformation of connected Homes and Offices into High Speed Wireless Zones supporting a wide range of wireless devices such as Tablets, Smart Phones and Laptops. The LTE terminal also supports connectivity to Smart TVs and Local Area Network (LAN) connected devices such as PCs and Printers.
Commenting on the launch of the country's first Commercial LTE Service, Anusha Pelpita Director General of the TRCSL said "The TRCSL is proud to note the commencement of Commercial LTE services in Sri Lanka.
The smooth introduction of the latest generation of telecommunication and broadband services requires consistent forward planning by the TRCSL and I am happy that our efforts have resulted in the country's telecommunications sector delivering high quality and affordable services to Sri Lankan consumers"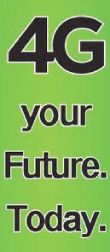 Dialog's LTE service features entry level home and office packages starting at Rs. 1, 400 for a 4Mbps connection with a 25 GB Data Allocation. Subscribers would be further facilitated with a simple and convenient process to upgrade entry level packages to higher capacities depending on their specific broadband service requirements. Customers of the service would also enjoy "Burst" Speeds well in excess of the nominal 4 Mbps connection speed at no extra cost.
"It is an honour and privilege to lead Sri Lanka's ICT sector into the LTE era said Dr. Hans Wijayasuriya Chairman, Dialog Broadband Networks (DBN) & Group CEO Dialog Axiata PLC. "The aggressive advancement of Sri Lanka 's Telecommunications sector has been made possible by the progressive policies of the Telecommunications Regulatory Commission of Sri Lanka, and the enabling environment which has been created and which encourages investment in the latest technology to the benefit of Sri Lankan consumers.
Carrying this lead forward, our LTE network will expand rapidly to cover most towns and cities of Sri Lanka in the near future, and consistent with the revolution we delivered in the mobile telecommunications sector over the past decade, we will deliver the benefits of LTE technology in a form which will be available and affordable to a vast majority of Sri Lankan citizens and businesses" he added.