'CJ's impeachment – majority view should be considered'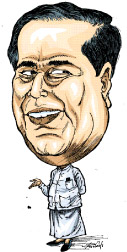 Leader of the House and Irrigation and Water Management Minister Nimal Siripala de Silva said if the majority of parliamentarians are of the view that Chief Justice Shirani Bandaranayake should be impeached as she had committed certain malpractices, it has to be considered.
There can be disagreement on the views expressed against the impeachment motion. We should not forget the fact that 117 Government parliamentarians held that the Chief Justice should be removed through an impeachment motion. So why shouldn't we respect this view, the Minister told the Sunday Observer yesterday.
"We say that a group of 117 Government MPs signed the impeachment motion against the Chief Justice under the relevant provision in the Constitution and Standing Orders of Parliament. Therefore, it is wrong for some people to interpret this as an offence or mistake committed by the parliamentarians," the Minister said. The Minister said every citizen or organisation has a democratic right to air its views.
"I don't say that the views expressed by the Maha Sangha and other sections of the society should be condemned".
Various people will arrive at different conclusions. We should respect other's views as well.
This does not mean that we should agree with all their views.
When the 117 parliamentarians, the signatories to the impeachment motion are of the view that the Chief Justice should be impeached, we cannot ignore it.
President Mahinda Rajapaksa will decide on the impeachment when it is presented in Parliament.
The impeachment motion should be based on the laws of the country, he said.