Tamil youth join Army in North and East reconciliation programs
Their happiness was a showcase of peace and harmony. Language was not a barrier to understand the excitement and thrill of joy they felt during the Colombo tour which was the first time to many of these young girls. The tour was for the Sri Lanka Army's newly recruited Tamil girls. Ninety seven girls out of the total 103 recruits joined the tour organised by the Sri Lanka Army for these girls.
All are hoping to go home after returning to their base today (13) to celebrate the Hindu New Year - the Thaipongal celebrations. It is the first time they are going back home since they were recruited in last November. For almost seven days they travelled, visited places and spent time with the other women soldiers of their battalion, the 6 Sri Lanka Army Women's Corps (SLAWC) at their rear headquarters in Veyangoda. It was a great way to enter in to this new world of disciplines and uniforms which is going to be their lifestyle for a considerable number of years until they retire.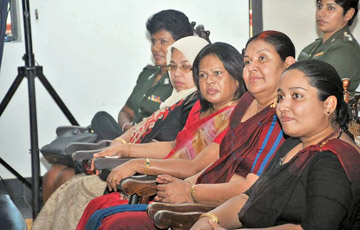 Listening to the voice of youth – SVAB President Manjulika Jayasuriya and members along with senior Army officers.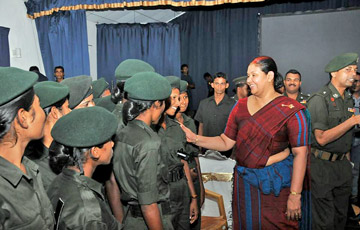 SVAB President Jayasuriya in conversation with the new recruits.
Their first day in Colombo could have been very chaotic with journalists, cameras, interviews around in a different atmosphere. Yet it was evident the newly recruits were slowly but steadily absorbing the discipline of the Army yet not losing their vibrant girlish nature.
Sri Lanka Army in November last year enlisted its biggest ever batch of 103 Tamil girls from Kilinochchi to the 6 SLAWC of the Sri Lanka Army Volunteer Force during a landmark ceremony at 6 SLAWC Headquarters at Bharathipuram, Kilinochchi. Although the Army has a fair number of Tamils and Muslims serving the organisation, it was the first time in its history a mass-scale recruitment of Tamil girls of this magnitude, took place as a gesture of goodwill and reconciliation. More than 200 girls applied for recruitment, but the Army was able to accommodate only 103 applicants after selecting the best in three rounds of interviews.
Majority of these girls were from the Northern Province yet there were a few from other parts of the country too. One of them was Nirmala Devi, a 23-year-old girl who was brought up and educated in Gampola. For her this is a dream come true.
"My father was so happy. He even took photos of me in the uniform. I am very happy that I could make him proud," Nirmala Devi said with a big smile. As she said her family and all her relatives are very proud of her for being the first girl from their family to join the army. "It was my uncle who told me this news. And I was fortunate to have a encouraging family," she said. Obviously for a Tamil girl this is a historical moment. In a flashback after several years one would see them as pioneers in women soldiers from the Tamil community.
Nirmala Devi has first studied in Sinhala in Devi Balika Vidyalaya in Gampola among schoolgirls of all communities and later enrolled to Hindu College for her further studies. "I did lot of sports at school specially athletics. Mostly I was famous for the javelin and put event. And I did dancing as an extracurricular activity," she said recalling her sweet memories of her school time.
Today, learning to become professional women to serve the country, these young girls care for each other like sisters. To them, their platoon is like a home away from home. A fraction of the Tamil populace showed a greater resistance in recruiting girls in to the Army. Yet, these young girls looking for better opportunities to make their future bright and prosperous treat the chance with such positiveness.
They and their families may have their own experiences facing the responses of the society. What was the reaction from the society to them and most importantly what do they think. "I think its their jealousy," Nirmala Devi said with a giggle. "Api ewa ganan ganne ne" (we don't mind those comments), she said. "As long as we do our duty honestly there can be no problems," she added. And her nineteen year old friend Nalini agreed.
Nalini has studied up to Advanced Level at Paranthan Hindu Maha Vidyalam. My mother died when I was ten. I'm living with my father and younger sister," Nalini said. Her dream had been a courageous job like working in the army. "I totally enjoy the job. We do drills and many physical training exercises and I do not find them tough," said Nalini with little pride.
"My father opposed when I decided to join the Army. He still doesn't like but not as he used to be at the beginning. He doesn't like not because of the army but he thinks it will be a tough job for a girl. He was afraid of the weapon training I will get," she said. "But the challenge to train for this job is what I like. I'm sure he will be okay in the future when he sees how I do my job successfully," said Nalini.
Nineteen year old Nagendran Subashini from Paranthan is very outspoken girl with confidence. On behalf of her peers she did a speech thanking the Commander of the Army and all who supports them at the welcome event held to introduce these girls to the service done by the Seva Vanitha Army Branch.
She desired a job in the Government sector - expecting a stable, secure future for her and her family. "My family was very supportive to my decision. But some people of the community questions why we joined the army," Subashini said.
Many local Tamil media carried news giving misconceptions but to me this is a very good job opportunity for girls like us, according to Subashini.
Subashini is the second of four girls and has one younger brother. Her entire first salary, she has given to her mother. "We have lots of financial problems and my salary gives a great relief to my family," she said.
Vinayagam Thanuja (23) hails from Talaimannar, Mannar. The Army announced about the recruitment at our village and I discussed with my family and they agreed with my decision to join the Army," Thanuja said.
Making the vote of thanks representing the Sri Lanka Army Seva Vanitha Unit Kumudini Wanigasooriya, Public Relations officer said "Caste, race and creed is immaterial. Unison to hold hands and walk as one is most important. And today that wish has flourished." the women soldiers met Sava Vanitha Army Branch President Manjulika Jayasuriya at the 'Viru Kekulu' pre-school auditorium at Manning Town.
Recruitment to Army is routine yet this is a major step towards reconciliation in the post conflict era. Keeping their role in reconciliation the Sri Lanka Army has made every attempt to give prominence to assist the communities of newly resettled areas especially during distress.
In Kilinochchi, the Security Forces Headquarters of the area has taken steps to provide computers to Government schools and to educate those children on Information Technology. Another 140 schoolchildren who passed grade five scholarship last year are given scholarships worth Rs. 10,000 each. Twenty five Advanced Level students of the Kilinochchi area were given Rs. 25,000 each funding their education jointly with the assistance of well wishers.
In addition, four undergraduates are given a laptop computer each and for two of them, who were from less privileged families, are given a monetary assistance of Rs.3,000 per month that will continue until they complete higher education.
In addition the Army assists schools in Kilinochchi to start cadetting and scouting on request. To children living in areas with transport difficulties bicycles are issued free.
In supporting the resettlement process the Army personnel are engaged in rebuilding and repairing houses of selected families who actually need help to stand up in their life.
In order to improve the prominent coconut cultivation of the area 450,000 saplings were distributed among several families by the Army.
In Mulaithivu, under the guidance of Security Forces Headquarters of Mulaitivu more than 100 new houses were built by Army personnel for the resettling communities. In addition they have repaired more than 600 houses as well and have made nearly 2000 temporary houses for resettling communities.
Army has helped selected schools build libraries while providing books as well with the help of patriotic citizens. For students of schools in difficult areas clothes for uniforms and stationery items are provided. In addition the Army has organised trips for these schoolchildren to visit areas like Colombo, Kandy and Galle with food, accommodation and transport provided free.
In assisting the community struggling to rise up, the Army is providing fishing nets and fiberglass boats to fishing communities to start off their livelihood activities and more than 2000 families were given chicks to start backyard poultry as a self employment. Sewing machines provided to women who requested assistance to start self employment. More than 300 tube wells were set up in many part of Mullaitivu where there is water scarcity.
As the first step in assisting the disabled people of the area irrespective of them being ex-LTTE cadres the Army deployed in Mullaitivu has taken steps to provide the needy with artificial limbs.
During the heavy rains that flooded the east displacing 11,982 men, women and children belonging to 3,228 families Army took every possible step to assist these families to be safe until their villages become approachable.
These steps have surely brightened the efforts of reconciliation of our country. Providing more space for other communities in their institute was a step that goes beyond assisting those people during distress.
Speaking to the 'Sunday Observer' Dr. Hiranthi Wijemanne, prominently working in the fields of rehabilitation and reconciliation at national level welcomes this gesture of the army in recruiting Tamil youth in to their network. "I definitely agree that recruiting Tamil youth both girls and boys is a significant step in the goal to achieve reconciliation. This decision signifies trust and acceptance that they are Sri Lankans and no different to the Sinhalese and Muslims," Dr. Wijemanne said. As she said, these new recruits will have a distinct advantage in areas with more Tamil speaking people as well as muliti ethnic geographical localities. "I hope this happens with the police too who have even more contact with communities, in relation to law enforcement activities," she added.
What more do we need to do to establish reconciliation or have we done enough as a country? Commenting on this Dr. Wijemanne said that in addition an emphasis to promote the importance of transacting all communication activities on a trilingual basis is important, particularly in relation to official documentation involving youth and children as well as in relation to the legal system and law enforcement activities.
Recruiting youth to the Army is a positive sign showing that young blood of the Tamil populace starts a new life in a peaceful world in harmony with brothers and sisters of all communities. It is what would energise the future of the country.
"I feel that the children and youth of today have an important role to play in reconciliation as their attitudes and behaviour are more pliable to change as compared with older persons . Greater use of music, drama, and art, as well as sports has great appeal for children and young people, and therefore of advantage in reconciliation processes. The mass media too can be mobilized more to reach out to all youth and children with key messages related to our Sri Lankan rather than ethnic identity, and change those attitudes and behaviour which are barriers to reconciliation," Dr. Wijemanne added.