The Rizana Nafeek: SAGA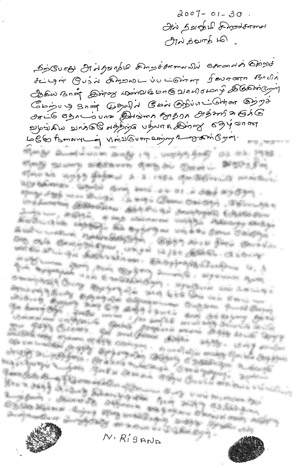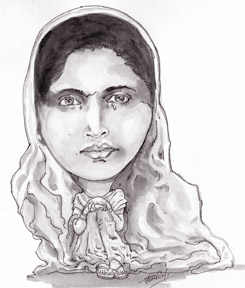 Way back in 2007, a 17-year-old, impoverished girl called Rizana Nafeek from Muttur boarded a plane bound for Riyadh, Saudi Arabia, dreaming of a bright future for her parents, sisters and herself. Just seven years later, that dream ended in a river of blood as a blood-drenched sword wielded by a Saudi executioner snuffed out her life. All appeals to Saudi authorities for clemency fell on deaf ears and she was dragged away to a ghastly death.
The barbaric beheading of a young woman for a crime she had allegedly committed as a minor has sparked outrage in Sri Lanka and around the world. Rizana, an innocent and fragile young woman who spent seven years in a Saudi jail, is likely to become an icon for a global call for labour reforms applicable to domestic workers, ending the virtual slavery of women and eliminating barbaric laws which permit such horrendous executions.
Young Rizana will not have died in vain if Sri Lanka and other members of the international community can seize the moment to create greater awareness on the need for labour reforms especially in Middle East countries.
That is the greatest tribute we can pay to a daughter of Sri Lankan soil who had to pay the ultimate price for no fault of her own.
---
'Quranic Laws flouted'
The Muslim Council of Sri Lanka (MCSL) has expressed its condolence to Rizana Nafeek's family, Secretary of MCSL S. A. Asker Khan said.
He said that at the time she entered employment she was under-age unfit to be employed with the task of taking care of a four-month-old baby.
We find it shocking that any parent would have entrusted his child to the care of another child. The unfortunate incident that led to the death of the infant is, in our view, a direct result of the negligence of the parents who entrusted their infant to the care of Rizana, while she was employed in cooking and cleaning.
We express our deep disappointment and disbelief that the parents of the infant whose death Rizana was held responsible for, did not avail the Quranic provisions of mercy and forgiving overlooking the negligence if any of this poor and youthful worker and also the Saudi Arabian Government for maintaining a regime with regard to migrant labour that does not meet any standards set out in Islamic Shariah law and international laws. The Holy Quran furthermore, urges in Verse 15:85 to overlook (any human faults) with gracious forgiveness.
Thus we see the implementation of the death penalty as going against the spirit and the letter of Islamic law. In fact the execution also brings to light another instance of the selective implementation of Saudi laws, for it is curious how an unmarried young female unaccompanied by a male, was permitted to enter, live and work in a country that insists on women entering Saudi Arabia to be accompanied by a male within the prohibited degree of marriage.
---
Shattered dreams....
'Fogotten by even the community'
Rizana left the country as a housemaid with many hopes to Saudi Arabia to improve the standard of living of her family. Rizana's father was looking after his four children including Rizana, selling firewood collected from nearby jungles.
"Now people are shedding crocodile tears, but they failed to give a helping hand to Rizana's family to overcome their poverty knowing full well, they were eking out a living - "She was accused of killing the child back in 2005, but up until now not a single Muslim organisation did anything to alleviate their poverty", a source requesting anonymity said. "Isn't this an indictment on the Muslim community?", he queried.
Prophet Muhammad (SAW) has said that when a neighbour is suffering from poverty, help him without considering his race or cast or religion. It is the bounden duty of Muslims to help. Most of the business tycoons in the Muslim community forget this concept and go about exhibiting their wealth, without extending a helping hand to this poverty stricken family", another source said.
Islam requires that a mother should "breast feed" the child for two years. In this case, the mother had failed in her duty to treat feed her baby according to the Holy Quran. The mother of the deceased child also failed to fulfil her duty as a mother.
---
Chronology of events leading to Rizana's execution
Excerpts of a compilation by the Asian Human Rights Commission for Asian Tribune posted immediately before Rizana's execution on January 9.
Rizana Nafeek, holder of Sri Lanka Passport No. N. 0331835 arrived in Riyadh, Kingdom of Saudi Arabia on 01 April 2005, to work as a housemaid in the household, of her sponsor, Naif Jiziyan Khalaf Al Otaibi, whose wife had a new-born baby boy.A few days after her arrival in Riyadh, roughly by 15th May 2005, Rizana Nafeek had been transferred by her sponsor to work in his family household in Dawadami, about 390 km west of Riyadh.
Rizana Nafeek had been arrested by the Dawadami Police on the same day (25 May 2005), and it was reported that she had allegedly confessed to killing the child.Rizana had repeated her confession in open court. However, at the court hearing on February 3, 2007, Rizana retracted her confession and informed the Court that her original confession admitting to the killing of the child had been obtained by the Police under duress.In her statement to Court, Rizana Nafeek had claimed that at the time of her arrival in Saudi Arabia, she was only 17 years and a recruitment agent had falsified her documents, seizing her passport by over-stating her true age by 6 years.
Initially a three-member panel of judges from the Dawadami High Court headed by Chief Justice Abdullah Al-Rosaimi found Rizana Nafeek guilty of murdering the four-month-old son of Naif Jiziyan Khalaf Al-Otaibi and sentenced her to death on June 16, 2007.
The Court informed Rizana Nafeek that she could file an appeal against her death sentence, which she did.
An appeal against the beheading of the accused was filed on behalf of Rizana by Khateb Al-Shammary, a Riyadh-based law firm, on July 15, 2007.In its submissions during the appeal, Khateb Al-Shammary cited several reasons why the maid should not be punished for her alleged actions. Lawyer Khateb Al-Shammary claimed that the maid was underage at the time of the incident and pointed out that Rizana was brought into the Kingdom as a housemaid, not as a nanny. Furthermore, the petition said that there was no reason for Rizana to harbour any vengeance against the parents of the child since she had been working for the household for only for a few days.
In the Sri Lankan side there were a few attempts to meet Naif Jiziyan Khalaf Al-Otaibi the father of the four-month-old baby, but he refused to meet any Sri Lankan even up to now.
The Dawdami High Court sentence was subsequently upheld by the Court of Cassation and sent for ratification by the Supreme Judicial Council. However, the Council sent it back to the lower court for further clarification.
What awaits next is left to be seen?
About AHRC: The Asian Human Rights Commission is a regional non-governmental organisation that monitors human rights in Asia, documents violations and advocates for justice and institutional reform to ensure the protection and promotion of these rights. The Hong Kong-based group was founded in 1984.
---
Saudi philanthropist to give house
The deceased Rizana's family is to receive a house, according to Child Development and Women's Affairs Deputy Minister M.L.A.M. Hisbullah.
The Deputy Minister said that a Saudi Arabian philanthropist has volunteered to build a house with all facilities for Rizana's family.
The poverty-stricken family still lives in a house that is less than the standard of a wattle and daubed house in Muttur Shafi Nagar, in Trincomalee. They are undergoing untold hardship due to the head of the household, Rizana's father taking ill and is still in hospital.
He was a firewood cutter earning a meagre income and unable to make ends meet. It was to alleviate this poverty that Rizana had thought of going to Saudi Arabia at such a young age and faking her age so that the agent will send her to Saudi. But fate decreed otherwise.
The Saudi Arabian philanthropist who understood the plight of Rizana's family volunteered to support this worthy cause.
Rizana left Sri Lanka at the age of 17 to serve as a housemaid in Saudi Arabia to support her family. But her dreams were shattered when the infant under her care died allegedly due to choking when the child was bottle-fed.
The Saudi well-wisher agreed to build a house four months before the execution of Rizana, Deputy Minister Hisbullah said. The Muslim community in Sri Lanka is still to rise to the occasion.
---
Parents inconsolable
Hearing the message of the execution of Rizana Nafeek in Saudi Arabia, a large number of people from nearby areas visited Rizana's parents in Shafi Nagar, Muttur to mourn the death.
Rizana's parents are still in shock after hearing the message from Saudi Arabia. A person who visited Shafi Nagar said the entire area looks like a funeral house. "Even though neighbours try to console the parents their emotions are yet to abate. They feel that they have lost everything in life, another neighbour said.
A few days before Rizana's father was hospitalised and underwent treatment, while he was receiving treatment. He was confident of his daughter's return, but now he cannot come to terms that his eldest daughter is no more.
Diverse humanitarian organisations including Amnesty International tirelessly attempted to prevent Rizana's execution, but nothing came of it.
The Saudi Arabian Government was waiting until the parents of the child gave a pardon to Rizana. But that attempt was abortive because without the consent of the parents, the King can't give pardon to a person who is prosecuted.
---
A mother's love...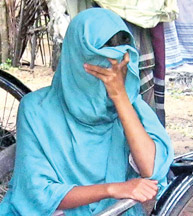 Rizana's mother had refused any assistance from outsiders who approached Rizana's family while Rizana was in death row. Her mother had said that all she wanted was her daughter and nothing could replace that. Almuslimath, a well-known institution in Sri Lanka which was in touch with Rizana's parents had approached to help Rizana's family.
Almuslimath had asked Rizana's parents several times whether to help them build a house or at least a toilet. But her mother vehemently refused saying "While my daughter is in prison how can we look for comforts".
This is the love a mother had for her daughter!
---
What other countries have to say....
UK:
In a statement Foreign Office minister for the Middle East, Alistair Burt said: "I condemn the execution of Rizana Nafeek in Saudi Arabia yesterday, despite the many appeals for her sentence to be commuted."
"The UK opposes all use of the death penalty as a matter of principle, whatever the crime committed. "We also find the practice of beheading to be particularly cruel and inhuman. We continue to raise our concerns about human rights with the Saudi authorities, including its frequent use of the death penalty".
EU:
The High Representative of the European Union for Foreign Affairs and Security Policy and Vice President of the Commission Catherine Ashton issuing a statement said she is deeply dismayed by the execution of Ms. Nafeek.
"I am deeply dismayed by the information that Sri Lankan national Ms. Rizana Nafeek was executed today in the Kingdom of Saudi Arabia," the EU official said.
"The EU opposes the use of capital punishment in all cases and under all circumstances," she added.
France:
France condemns the beheading on January 9 in Saudi Arabia of Rizana Nafeek. France is campaigning for the universal abolition of the death penalty.
As Mr. Laurent Fabius, Minister of Foreign Affairs, reaffirmed, It urges Saudi Arabia to put an end to the executions and to establish a moratorium.
OPA:
Organisation of Professional Associations of Sri Lanka in a statement said, "The barbaric and inhuman punishment given to young Rizana Nafeek has become a shock not only to them, but all decent people in the world".
Unreservedly condemning the cruel and inhuman punishment meted out to Rizana OPA called upon the government to immediately halt the migration of its citizens to countries that practise barbaric laws and slavery."We have noted hundreds of our citizens have been subjected to cruel, inhuman and degrading treatment at the hands of psychopathic employers," the release stated adding, "It is the duty and the responsibility of our government to provide financial support for those suffering from poverty to discourage them from seeking employment in such countries."
- Source: AHRC