Winner:
My favourite game
My favourite game is chess. It is played all over the world.
Chess is the national game of Russia. In Sri Lanka it is a very popular game among schoolchildren. There are national level and international level chess competitions. It is an intellectual game.
We need a chess board to play the game. There are 32 pieces.We need two players and it is an indoor game. It is a very enjoyable game.
We have to spend a lot of time to play chess. You need a lot of practice to play this game. When we take part in competitions we receive medals and certificates.
I like to play chess very much.
---
Winner:
If I regain my vision
I want to see,
The world,
Play with my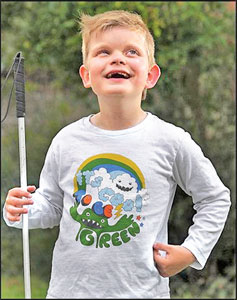 Bat and ball.
If I regain my vision,
I'll be lucky,
To play,
And be a cricketer.
I also can see my parents,
My friends and relations.
Then I'll be happy,
More than ever,
I want to see,
Mother nature
Who gives life
To everything in the world.
I want to see the world.
Achieve my targets.
I want to be the best,
In whatever I do.
---
Winner:
Bicycle
The bicycle is a two-wheeled vehicle that you sit on and move by turning the two pedals. It is a vehicle which everyone can use without any fuel. To run a bicycle we use only pedal power.
The first bicycle was invented in 1817. From that day onwards there have been many kinds of bicycles throughout the world.
There are many advantages of the bicycle. Children use it to go to school and meet their friends. Elderly people use the bicycle to travel short distances or for exercise.
We can exercise our body by riding a bicycle.A disadvantage of the bicycle is that we get tired when we ride it for a long time. If we ride it carelessly, we will meet with accidents.
---
Winner:
Albert Einstein
The man of the 20th century:
Albert Einstein was an American scientist. He was born on March 14 in 1879. He was a Jew born into a middle class family. He was interested in subjects such as science, mathematics and physics. He read the work of philosophers, scientists and mathematicians to improve his knowledge. Through his reading ability and observation he fulfilled his mission.
He was named "The Man of the 20th Century" in the millennium issue of the Times. He achieved his ambition by working hard and condemned the World War II.He won the Nobel Prize for his creativity. Later he became a professor at the German University.
He was the inspiration for many novels, films and plays.Albert Einstein said that the velocity of light is independent of the motion. He put forward his Theory of Relativity in a scientific paper, which is known as "Electrodynamics of moving bodies".He was a brilliant teacher who had a great following. He said "Anyone who has never made a mistake has nerver tried anything new". This proves that our experience will guide us to achieve our goals. He died on April 18, 1955. His name will live for ever
---
Winner:
The wonderful world of children
The child is a wonderful creation,
With no imitation
Parents' pride and expectation,
the lifeblood of a nation.
Children bloom like
beautiful flowers,
They spread their fragrance for many hours.
Children are like tender plants,
they grow and mature.
When they take root on fertile soil, they bear fruit for the future.
Children are like little birds
with a desire to fly.
They flutter like butterflies
always willing to give life a try.
Children are lively spirits,
bringing joy and hope each day,
They brighten up life's dark corners
in their own sweet way!