Nenasala, twice as successful as regional IT centres
The Nenasala project in Sri Lanka has achieved more than twice the level of success compared to similar centres in the Asian region.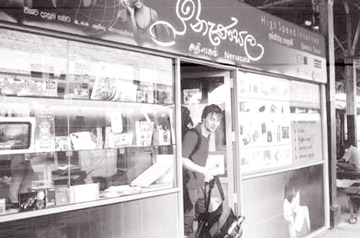 The total project has 700 IT centres islandwide under its purview and their success rate is 70 percent. The overall success rate is more than twice that of the region where it is 30 percent.
The Nenasala centres are emerging as a tool to facilitate access to information technology, Information Communication Technology Agency (ICTA) Chief Executive Officer Reshan Dewapura said.
The Nenasala project was a brainchild of President Mahinda Rajapaksa. The President had always wanted to bring the optimum benefits of ICT to the people islandwide, especially the most disadvantaged in society. The Nenasala project is a major machinery in taking the benefits of ICT to the people, he said.
"Carrying out the Nenasala project is not easy. It is complex. It has its problems.
"But thanks to ICTA, which pioneered the difficult task, the Nenasala project today stands tall, not only in Sri Lanka, but in the world", he said.
He requested the Nenasala owners and operators to make the resources available to yield the highest results in serving the people. This success is due to the leadership given by the President from inception eight years ago and the practical guidance offered by Telecommunication and IT Minister Ranjith Siyambalapitiya.
"We are humbly pleased with the success of the project under the e-Sri Lanka initiative as is further manifested by the extensive presence of the successful Nenasalas islandwide", he said.
According to a global survey, the Nenasala project is a model for the world in telecentres. According to another survey more than 200,000 persons use the Nenasala per month. Today Nenasala is popular and is approached by farmers, fishermen, the self-employed, the private sector, schoolchildren, teachers, vegetable vendors and foreign employment seekers on a regular basis. It has become even more useful with its link to Lanka Gate and Lanka Payment Portal.
- SJ