NTC parade ends on high note
The final parade of Hermann Loos and De Soysa Trophy and the Best Battalion Selection Camp of the National Cadet Corps (NCC) was held at the NCC Training Centre, Rantambe on October 28. Prime Minister D.M. Jayaratne was the chief guest.
Hermann Loos and De Soysa Competition Camp is the culmination of cadet training in Sri Lanka. Champions and runners up of 24 Battalions spread throughout the country attended this camp. National Cadet Corps headed by Director General Cadet Corps Major General Gamini Jayasundara RWP RSP being the premier youth development organisation in the country is in the process of moulding school-going generation to be junior leaders of the country since its inception from 1881. Several Heads of NCCs officers and cadets from SAARC countries witnessed the parade.
This year's final parade was also witnessed by approximately 10,000 people comprising principals, teachers, parents and well-wishers of the NCC. Infrastructure facilities for the ceremony was provided by the Seva Vanitha Branch of the NCC under the patronage of Priyanthi Jayasundara.Dharmaraja College, Kandy and Nalanda College, Colombo won the Hermann Loos Trophy this year while De Soysa Trophy was won by Rathnavali Balika Vidyalaya, Gampaha. The platoons were designated as the President's Platoons of the year.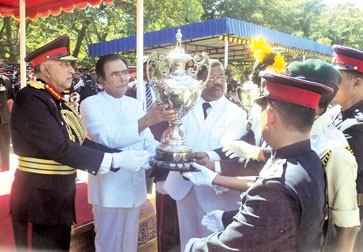 Hermann Loos Trophy presented to winners - Nalanda College, Colombo
and Dharmaraja College, Kandy
Runners up were Maliyadeva College, Kurunegala and Devi Balika College, Colombo respectively. Bandaranayake College, Gampaha and Vishaka Vidyalaya, Colombo won the third place of the competition. Sixteen girls' platoons and 47 boys' platoons comprising over 1,500 cadets from 75 schools islandwide completed these coveted challenge trophies. St. Mary's College, Kegalle Sergeant Dharmasena MMA and Maliyadeva Girls College, Kurunegala Cadet Wijesingha WMSM won trophies as the best Gunman and the best Gunwoman.Defence and Urban Development Ministry Additional Secretary (Defence) S. Hettiarachchi, Additional Secretary (Parliamentary Affairs and Welfare) J.A. Ranjith, Senior Assistant Secretary (Defence) H.A.A. Chaminda, senior officers from Armed Forces, school principals, teachers and parents were present to witness the parade.