Dollar gains in Asia after US growth data
TOKYO: The dollar was steady in Asia on Friday following better-than-forecast US growth figures, which also eased concerns about emerging markets after a heavy sell-off this week.
The greenback bought 102.52 yen, down from 102.71 yen late in New York but better than the 102.30 yen earlier on Thursday in Asia.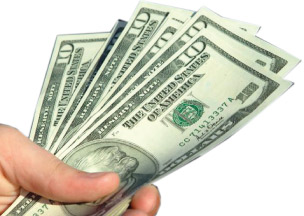 The euro weakened to $1.3547 against $1.3554, while it declined to 138.80 yen from 139.21 yen.
On Thursday the US Commerce Department said the world's number one economy expanded 3.2 percent in October- December, well above the 3.0 percent projected by analysts.
There was also some cheer from figures showing a 3.3 percent rise in consumer spending, which is a crucial driver of growth in the United States. Investors welcomed the news, which came a day after the Federal Reserve reduced its stimulus program by another $10 billion a month to $65 billion, following a similar cut in December.
While the US Central Bank cited a firming US economy for the wind-down, it rattled emerging markets such as India, South Africa and Russia on fears of capital flight, which in turn sent their currencies diving.
But Thursday's growth figures soothed some tensions, with Russia's ruble, the South African rand, Turkey's lira, Brazil's real and the Indian rupee all either flat or stronger, even as the dollar itself surged against major currencies.Japan's Economy Minister Akira Amari called for markets to "cool down" to avoid mass capital repatriation by foreign investors.
"I want the market to cool down because what tapering is all about is not decreasing money, but the pace of money they provide," he said.
Head of FX trading at Sumitomo Mitsui Trust and Banking, Osao Iizuka told Dow Jones Newswires that he "remains sceptical" about markets settling down.
-AFP