New gun law a boon to Filipino journalists
Now journalists in the Philippines will be able to obtain a news story without any hassle or threat.
It is because of the recent Republic Act 10591,signed last year, which classifies them as "in eminent danger due to their profession. Hence not only journalists but also priests, lawyers, doctors, nurses,accountants and engineers too are covered accordingly and will automatically be allowed to carry firearms outside their homes under the new law.
To qualify for a special firearms permit, people in these professions have to pass drug and psychiatric tests, and show they don't have any criminal convictions or pending cases for crimes with punishments of more than two years in prison.
This relaxes the requirements of the previous gun law, the Republic Act 8294, under which they had to prove they were under "actual threat" of danger to carry a firearm.
The regulations could be good news for reporters in the Philippines, who live in one of the world's deadliest countries for the media, according to the Committee to Protect Journalists.
Some 74 journalists, mostly covering politics, have been murdered in the Philippines since 1992, the press freedom group says. In more than 70 percent of cases, the killers have gone unpunished. With gun ownership high - there were 1.2 million registered firearms in the Philippines in 2012, according to data from the National Police Firearms and Explosives Office, and estimates for unregistered weapons are in the hundreds of thousands - firearms are often blamed for violence in the country.
During New Year celebrations alone, at least 30 people were injured and one infant killed by stray bullets, the police said.
Philippines' authorities say the new law will help them better regulate the use of firearms and curb gun-related crimes, according to local media reports.
University College of Law professor Harry Roque, a human rights lawyer, said "I appreciate the concern of the state, considering we are one of the most murderous countries for journalists and the most murderous country for lawyers and judges.
"I could see the state interest in making this classification to prevent further targeting and killing."
Philippine National Police Director General Alan Purisima hailed the new law, saying: "This is not just to standardise the regulation of firearms but will also help us to intensify our campaign in curbing gun-related crimes and establish effective firearm control."
President Benigno Aquino, a gun enthusiast like his late father, is known to own over a dozen firearms.
Recently, he told a group of visiting female students that target shooting in the palace grounds was his way of beating stress.
"I still engage in practical shooting, once a week. It gives you a break from everything," he said.
---
Animals blessed at the Vatican
In thousands they all came to St Peter's Square to mark the feast of St Anthony to get a blessing. On Friday January 17 Italy celebrated the feast of St Anthony the Abbot, the patron saint and protector of animals.
It was a whole host of animals - pigs, chicken, horses, cows, cats, dogs etc. who came with their owners for this special occasion.
At 10.30 a Mass was celebrated for the farmers and their families by the Arch-priest of St Peter's church Cardinal Angelo Comastri, who later imparted a blessing on the animals present. Each year, for the past seven consecutive years, an open air stable is assembled by the Italian Association of Livestock Farmers (AIA) at Piazza Pio XII in front of St Peter's Square in Vatican City. This traditional exhibition of animals, which includes cows, sheep, goats and hens, takes place from 09.00 hrs until about 15.00 hrs and is open to all. As in previous years, pet owners are invited to bring their cats and dogs for a free check-up from veterinarians provided by the farmers' association.
St Anthony the Abbot, the third century holy man is believed to protect animals and farmers. The Saint who died in Egypt has always enjoyed a widespread following among Italy's agricultural communities.
According to an ancient legend from the Veneto in northern Italy, on the night of January 17 animals acquired the ability to speak. On this night each year, it is said that people were kept away from stables because to hear the animals talk was considered a bad omen.
---
Parrot enters polls fray
It's absurd but this question has to be answered. Will you vote for Yasha? Who is Yasha?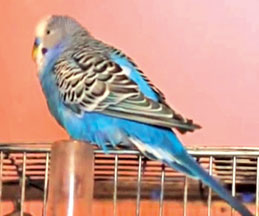 Yasha is a parrot, who has come forward to contest a municipal election in Belarus. According to Kanstantsin Zhukouski, the owner of Yasha, the Mazur electoral commission had processed the document had accepted the candidature of Yasha. Hence Yasha can enter the polls fray.
They also processed an application to set up an associated campaign group for the bird. Zhukouski said that he photo-shopped an image of the bird into a copy of his passport before posting it off. He said his parrot had long dreamed of becoming a deputy and had learnt to say several phrases as part of his candidacy bid such as "where is money?" and "I want to go to the council chamber".
His political slogan was a simple "Yasha is good." He added: "As long as there is a passport copy, you may draw even a pig, and as today's case shows, even get it registered."
However, despite such an easy entry into the political running Zhukhouski said that Yasha pulled out because "being a regional councillor isn't very prestigious."
Another motivation could have been to avoid a possible penalty for electoral fraud.