'Bank consolidation should focus on SMEs'
The proposed consolidation of the banking and finance sector has certain economic objectives and priorities envisaged by the regulator, said Chairman and Managing Director, Lanka Financial Services for Underserved Settlements and CEO, CCC Solutions, Chandula Abeywickrema. He said that the extent of financial inclusivity in the consolidation plan is not clear as yet. If the consolidation is to have a major impact on the SME sector, banking and financial sector inclusivity is paramount.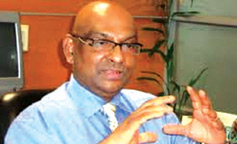 Making banking and financial services available, accessible and affordable are vital for SME sector empowerment. In an economic ecosystem there is room for many entities to cater to various market segments as in developed economies such as USA, Japan and Germany.
He said that though every stakeholder in the public and private sector acknowledges the importance of SME sector development for economic growth, serving the SMEs has been confined to rhetoric and a topic for seminars and discussions. Creating access to finance for the SME sector has been advocated for a long period and despite many efforts SMEs, to a certain extent, are marginalised due to many factors. The banking sector alone is not responsible for facilitating SME sector financing but there are a number of stakeholders including SMEs which should build capacity to make it a vibrant sector.
"To formulate a strategy for SME sector financing by banks, the banking sector has to move away from collateral-based financing and focus on cash-flow based financing and create greater access and affordability for SMEs," Abeywickrema said.
He said that banks face difficulties in financing SMEs due to the stiff regulatory and compliance needs to maintain the loan book portfolio.
Banks have to employ specialists in various sectors at the evaluation and delivery points to facilitate SME financing due to the diversity of the SME sector which comprises manufacturing, agriculture, trading and service sectors.
Abeywickrema said that there are a number of public and private sector entities that facilitate and support SMEs.
Many multilateral agencies such as the World Bank , ADB, IFC launch programs to facilitate this sector.
"An entity should be set up to get all stakeholders including, the regulators, the public and private sectors, banks and donor agencies to empower SMEs. There should be pragmatic solutions than a policy per se to boost SME development.
He said that regulations could be introduced for banks, as in India, making it mandatory to lend to SMEs, but that will be like putting the cart before the horse because without addressing industry capacity-building issues, regulations alone will be ineffective.
The SME sector is the backbone of the economy. It accounts for around 80 percent of all businesses and makes a major contribution to export earnings. SMEs are spread across many sectors of the economy, primary, secondary and tertiary and provides employment for those of different skills.
In the service sector, SMEs accounts for more than 90 percent of business establishments.
SMEs are an essential source of employment and are estimated to contribute about 35 percent of employment opportunities.