'Lanka will develop strong ties under Narendra Modi's Govt'
BJP's majority, a blessing for Sri Lanka - Keheliya Rambukwella
Media Minister and Government Spokesman Keheliya Rambukwella said, that the BJP having secured a big majority singlehandedly at the recently concluded Indian election is a blessing for Sri Lanka, since it lessens the likelihood of the Centre bowing down to regional political compulsions.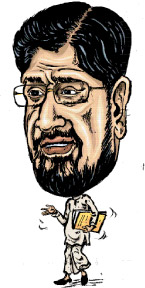 He said the BJP led National Democratic Alliance (NDA)secured 318 parliamentary seats with the Bharatiya Janatha Party winning the majority 277 seats singlehandedly.
Therefore, the Government would be strong not needing to be dictated to by raucous regional leaders.
"I feel Sri Lanka would develop a strong relationship with India under Narendra Modi's government."
"We, indeed, had cordial bilateral relations with the Congress led government but since the party was banking heavily on regional support, the Congress was short of a free hand when it came to Sri Lanka – India bilateral relations and therefore the relations were far from smooth." "In contrast, Modi has won a clear majority on his own. He will be free to make his own decisions," the Minister said.
India voted in favour when a US sponsored resolution against Sri Lanka was moved at the Geneva Human rights Council in 2012 and 2013.
In March, this year it defied Tamil Nadu pressure and remained neutral. President Mahinda Rajapaksa was among the first to congratulate Prime Minister elect Narendra Modi and invite him for a State visit to Sri Lanka.
President's Spokesman Mohan Samaranayake said it was too early to assess where Sri Lanka-India relations would drift under the new government, but the BJP had already underlined during its election campaign that the party is for an undivided Sri Lanka.
He said this was further emphasised when the BJP issued a statement condemning Tamil Nadu Chief Minister Jayalalitha Jeyaram when the state government attemped to release the LTTE assassins of former Indian Prime Minister Rajiv Gandhi.
"We can rest assure that LTTE elements will not be entertained by the new Government," Samaranayake said.