Vesak and alms-giving at Sri Lanka High Commission in London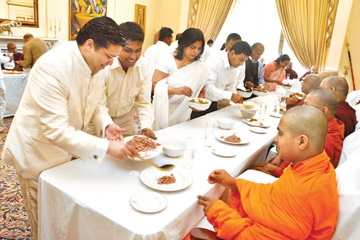 The High Commission of Sri Lanka in the United Kingdom organised an alms-giving for twenty members of the Maha Sangha representing the Buddhist temples in the UK, as part of its Vesak celebrations and also to invoke blessings on President Mahinda Rajapaksa, the Government and the people of Sri Lanka. The High Commission premises were colourfully adorned with Vesak lanterns, Buddhist flags and decorations.
The Chief Sanganayaka of Great Britain and Head of the London Buddhist Vihara, Ven. Bogoda Seelawimala Nayaka Thera, chief incumbent of the Kingsbury Saddhatissa International Buddhist Vihara, Ven. Galayaye Piyadassi Nayaka Thera, chief incumbent of the Birmingham Jetavana Buddhist temple, Ven. Keppetiyagoda Gunawansa Nayaka Thera participated.