Big boost for schoolboys - Jayantha Seneviratne
Sunday Observer/Mobitel Schoolboy Crickter of the year contest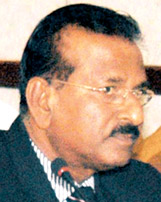 Former Sri Lanka cricketer Jayantha Seneviratne who turned out to be Nalanda College cricket coach for nearly two decades, believed that the Sunday Observer/Mobitel Schoolboy Cricketer of the year contest is no doubt a big boost and a stepping stone for future cricketers.
Seneviratne who has been closely associated with school cricket and touring with schools and junior teams home and abroad has the credentials to comment on the progress of school cricket. He said that the contest creates a lot of interest among the schoolboy cricketers and the schools authorities.
During Jayantha Seneviratne's tenure as the Nalanda cricket coach, the school produced a number of top-players who later went on to represent the country. Kumar Dharmasena and Gihan Rupasinghe won the Schoolboy Cricketer awards and there were many players who won the other awards. Present day players like Mahela Jayawardene won the best batsman's award and later went on to become the Test captain and a front line batsman in the Sri Lanka batting line up.
"This contest which has been held over three decades is undoubtedly a forerunner for the young school boys. It also inspires the players to perform better while achieving their targets. The batsmen are more determined to reach the 1,000-run mark target for the season while bowlers aim at the maximum number of wickets they could get during the season. The outstation schools too have been benefited with players determined to hit the top," said Seneviratne.Seneviratne was a hard hitting top order batsman during his school days and maintained that level while representing the country. He played six unofficial Test matches prior to Sri Lanka gaining full Test status, two each against India with Ajith Wadekar and Anura Tennekoon as respective captains. He also played against the West Indies with Clive Lloyd and Tennekoon as captains. And against Pakistan in 1974, in an away series in Lahore in the second unofficial Test he brought Sri Lanka to the brink of victory with an unbeaten 98 but he ran short of partners.
He has served Sri Lanka Cricket in various capacities and has been engaged in an excellent job guiding the youngsters and showing them the right path to success on and off the field.