Nominations for Uva PC polls from July 30-Aug 6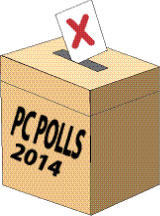 Registered political parties and independent groups should submit 21 nominations for Badulla and 17 nominations for the Moneragala district to be eligible for the Uva PC polls, a spokesman for the Elections Department said yesterday.
He said nominations for the Uva PC polls, scheduled to be held in August or early September, will be accepted from July 30 to August 6 by the Returning Officers in the two districts.
Eighteen members from the Badulla district and 14 members from the Moneragala district will be elected. He said that the decision to award three additional seats to the Moneragala district from the Badulla district will not be changed as it is in keeping with the law, on the Attorney Generalís advice.
MF