Violence against children hits a new high?
This is the timeline of recent tragedies that have overwhelmed the country causing shock and disbelief in the minds of many.
World Children's Day is just round the corner and one is at a loss to understand what really is happening taking into consideration, children whose lives have been lost in these mindless tragedies.
On the one hand, having ended a brutal war on terrorism which eroded the childhood of our country's future, Sri Lanka is now a peaceful terrain.
Sri Lanka should be a better place for our children to grow up and be happy - guns have long fallen silent.
However, daily media reports, depict a story contrary to what we would like to hear.
Cruelty against children get prominently reported almost everyday.
Unfortunately, the perpetrators of these gruesome acts are increasingly found to be none other than the guardians or parents of the victims. It looks as if people have become immune to violence. Compassion is yet to find its rightful place - within a warm and a beating human heart.
"This is the result of being exposed to brutal acts of terrorism for three long decades. Such news has now become the order of the day," Chairperson of the National Child Protection Authority Anoma Dissanayake said.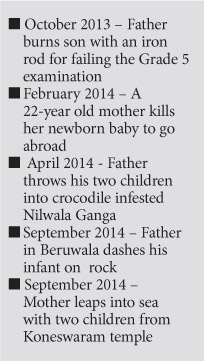 It's a pity that violence against children seems to be continuing on a scale that is unimaginable, although the Government stopped the LTTE from recruiting child soldiers and rehabilitated them.
Still there is much to do in shaping the human mind and training them to be compassionate and be sensitive towards others including their offspring.
"I see one reason to many infant deaths as being the lack of family planning advice to newly weds or those who are planning on marrying shortly."
Dissanayake said there was a time this knowledge was freely available and unwanted births were not that frequent.
"What we have to emphasise is that if you don't want a child, there are so many family planning methods you can turn to. Maybe those who opt to kill their newborns are not aware of them," she said. There was a time when people were encouraged to plan their families well ahead.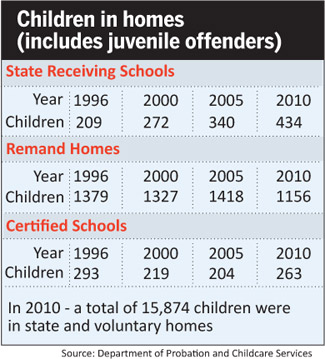 Today, family planning counseling has been relegated to the back burner. This is an area the authorities must focus on to prevent unwanted children being murdered or abandoned by desperate couples. Unfortunately, it was recently reported that a mother of three killed her fourth child. The reasons behind her action should be investigated and remedied before it becomes a social issue.
Ms Dissanayake said it was not practical nor legal for the state to restrict people with poor finances, from having children.
But what the other countries have done is to offer financial assistance to low income families to bring up their children. Assistance can be limited to three children, so that parents will be compelled to self regulate.
According to the Department of Probation and Childcare Services, in 2010 (latest available data) they have received 3380 complaints on child abuse out of which 2459 were involving girl children. Sexual violence, has topped the list of offences against children with over 1100 cases and neglected children with 301, coming second.
Reported incidents of abductions, 270, and incest with 131 cases have also been significant. Statistics show that in 2010 a total of 15,874 children were in 368 children's homes including in detention and remand homes for juvenile offenders.
Of the country's 368 state and state registered children's homes, 341 are administered by volunteers. Statistics do not cover unaccounted numbers of street children and unreported child labourers.
The issue of children are a much larger issue than it has been currently quantified.
The Department has sheltered 434 children in State Receiving Schools in 2010, out of which 290 have been abandoned by parents or guardians and 345 below five years of age. State Receiving Schools, totaling eight provide protection and care for children who have not had the opportunity of living with their own family, either permanently or temporarily.
The number of Juvenile offenders, however seems to have fallen over the years.In 1996, 1379 children were admitted to remand homes and in 2005 this reached 1418 before falling to 1156 by 2010.
In 2010, a further 263 children were in certified schools, which accommodate minors who have committed lesser crimes. Crimes committed by juvenile offenders included theft, murder, attempted murder, arson, crimes related to liquor, straying and disobedience. Ms.Dissanayake said that adults should give children love, protection, care and also respect because what we will show our children today, they will give it in turn to society tomorrow. "If we respect them today they will respect us tomorrow."

She was of the view that society too should respect and care for children and must show compassion for families with young children. "I have seen in Bhutan how concerned strangers are towards children on the road, vehicles slow down the and pedestrians are helped out. This is what we lack here today." Empathy and solicitude that Sri Lankan society was famous world over, needs to be recalled and commissioned to take over the apathy that is eating into our society once overwhelmed by fellow feeling. We must realise that children are our future. Looking after them is the responsibility of everyone, not just their parents' and guardians. If the mentally sick harm our children, the majority of the mentally sound in society should not play dumb or be indifferent. They have an active role toplay, at least to be the 'whistle-blowers' in society.
Violence and indifference to violence are the results of long exposure to war.Unfortunately, change in such negative attitudes cannot be brought in easily. NCPA Chairperson also voiced that the legal process of adoption should be more people- friendly and it should be simplified when it involves Sri Lankan foster parents. "Children should grow up in a family unit. Children's homes are not the best place for them where there is again room for exploitation." It is reported that due to strict laws, a long list of prospective people, numbering about 4000, are made to wait to adopt a child. When there are so many children waiting for affection, touch, love and care, it is a crime to deprive these people the opportunity to adopt a child and shower them with love and affection, due to unnecessary red tape. Children are our asset, the apple of our eyes, they will one day take over the reigns of this country from our grasp - have we done enough to protect them?