Meetings scheduled with Narendra Modi and Ban Ki-moon:
Australian PM hails President for LLRC's progress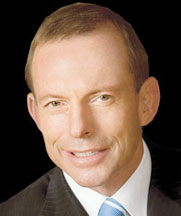 Australian Prime Minister Tony Abbott commended President Mahinda Rajapaksa for implementing the LLRC recommendations, when the two leaders met on the sidelines of the United Nations General Assembly in New York on Friday, President's International Media Unit Spokesperson Anuradha Herath said. He said, the fact that the LLRC is going so well is a credit to you." Australia had been supportive of Sri Lanka's domestic efforts of reconciliation and the LLRC process.
It declined to co-sponsor the US led resolution which appointed, unilaterally an international panel of inquiry to probe the final stages of Sri Lanka's war against LTTE terrorism. Australian Foreign Minister Julie Bishop was earlier quoted in the media saying that the resolution did not recognise the significant progress by the Sri Lankan Government and also the investigation, without the cooperation of the Sri Lankan government, cannot be termed as the best way forward.
Meeting the Australian PM was one of the high profile events President Rajapaksa had in New York during his current tour.
He was due to meet Indian Prime Minister Narendra Modi yesterday evening (local time) and call on UN Secretary General Ban Ki-moon thereafter.
Earlier, he met Nepali PM Sushil Koirala, Colombian President Juan Manuel Santos Calderón, Palestinian President Mahmoud Abbas, Kenyan President Uhuru Kenyatta and Commonwealth Secretary General Kamalesh Sharma.
Australian PM Abbott, during his meeting with President Rajapaksa described Sri Lanka maintaining a 7.8 GDP growth with the potential to increase it further before the end of the year, as a "remarkable achievement."
The two leaders also discussed bi-lateral cooperation where the Australian leader thanked President Rajapaksa for Sri Lanka's assistance in dealing with his country's people smuggling issues.
He said," I am so grateful for the help that Sri Lanka has given." The two leaders met at the Commonwealth Heads of Government Meeting in Colombo in November last year.
External Affairs Minister Prof. G.L. Peiris, Irrigation and Water Resources Management Minister Nimal Siripala de Silva, MP J.R.P. Suriyapperuma, Secretary to the President Lalith Weeratunga and the Permanent Representative of Sri Lanka to the United Nations Dr. Palitha Kohona were present at the meeting.