Uva polls result–no impact on UPFA vote base
Mass Media and Information Minister Keheliya Rambukwella said as far as the Government is concerned, it has secured power in most of the Uva electorates and it had some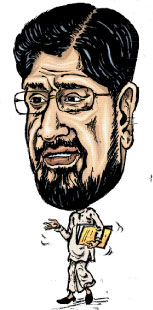 downward trends only in one or two areas at the recently concluded Uva Provincial Council elections.
This has not made a big impact on the UPFA's vote base. The Government has confidence and is looking at this seriously and focussing on where it had gone wrong to correct itself, the Minister told the Sunday Observer yesterday.
Asked about the UNP's claim that the Uva PC election result is a "red light" to the Government, Minister Rambukwella said the UNP has to invariably make that comment.
The UNP being a giant political party has faced repeated failures over 20 years. They are loosing their cadres. When they have a little "fresh air", they need to develop or enlarge on it.
The position adopted by the UNP is quite justifiable for a political party.
"When people say that Ranil Wickremesinghe has faced 29 electoral defeats, that has been drowned now. Else the people would have talked about the 28th or 29th defeat of Wickremesinghe this time too.
Wickremesinghe acted wisely and made new appointments within the party. The people have forgotten that the UNP faced yet another defeat," he said.
The Minister said that if one says that the Uva election result is a red light, I would take up the 1993 Southern Provincial Council election where the famous Fransisku case occurred. There was a complete whitewash and eventually Amarasiri Dodangoda was elected Chief Minister.
Simultaneously, the most powerful personalities such as Lalith Athulathmudali, Gamini Dissanayake, G.M. Premachandra and Samaraweera Weerawanni decamped from the UNP. Chandrika Bandaranaike Kumaratunga also came from nowhere and contested the election and cut a figure.
In fact this was a red light as the results proved.