Incentives to boost self-employment
The Government has given due recognition to people who take to self-employment and has taken steps to help them, Postal Services Minister Jeevan Kumaratunga told members of the Jeewana Liya Jathika Sansadaya at the Madapatha Shailatharama Viharaya, Piliyandala, where loans were provided to launch self-employment projects.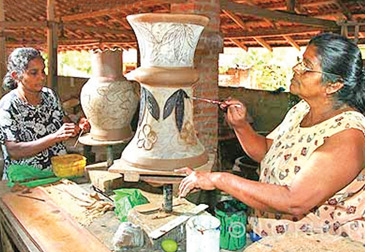 The Chief Incumbent of the Vihara Ven. Madapatha Nandarama Thera and the representatives of the Regional Development Bank were also present. He said that the Jeewana Liya Sansadaya was founded with a few members.
Today, it has become popular and the number of members has increased and a sub-committee has been set up to help members.Minister Kumaratunga said after he entered politics he was first appointed Deputy Samurdhi Minister.
During his tenure as Deputy Minister loans were given to rural people to launch self-employment projects. Jeewana Liya also introduced various programs for the village community. A large section of the people who obtained loans achieved their goals.
We are ready to extend a helping hand to people who try to develop themselves, he said.
President Mahinda Rajapaksa who has understood the value of women in villages has drafted plans to get them involved in self-employment programs. He has also initiated a large number of projects to develop the country. Development of housing complexes, beautifying the cities and developing roads are among them.
Villages are also being developed similar to cities, the Minister said.
He said that under the Mahinda Chinthana national development concept, various programs such as providing loans, subsidies and training have been launched to uplift the standard of living of women in villages.
By getting women involved in the development process, the country's economy will advance several-fold. Women play many roles in the family such as looking after children and contributing to the economy through self-employment, the Minister said.