New markets for ornamental fish exports
Sri Lanka's first-ever Global Ornamental Fish (O-Fish) Confab opened in Colombo on Monday.
Renowned international industry leaders and Ministers were present.
"Considering our Government's initiatives, I believe that there is no need to worry about our fish varieties going into 'Red Lists'. What is important is that new global markets opened for our ornamental fish exports in 2013," Industry and Commerce Rishard Bathiudeen told the International Ornamental Fish Trade Conference 2014 (SLIOFT) at the Galadari.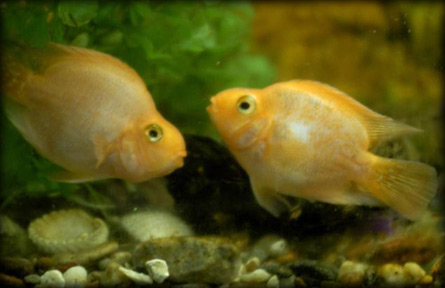 "The new markets are Qatar, Iran and Lebanon which increased their purchase in 2013," he said.
The two-day conference was organised by the EDB, INFOFISH and the Ministry of Fisheries and Aquatic Resources.
It featured a plenary session with three other sessions and a field visit by international delegates to a Lankan ornamental fishery farm in Handapangoda.
Director, INFOFISH, Dr Abdul Basir Kunhimohammed, President, Ornamental Fish Association, Dr Gerald Bassleer, Fisheries and Aquatic Resources Development Minister Rajitha Senaratne, Deputy Minister of Industry and Commerce, V. A. D. L. Wasantha Perera, Deputy Minister of Economic Development, Susantha Punchinilame, Deputy Minister of Fisheries and Aquatic Resources Development, Sarath Gunaratne, Secretary, Industry and Commerce Ministry, Anura Siriwardena, Secretary, Fisheries and Aquatic Resources Development Ministry, Dr D. M. P. Dissanayake, Chairman and CEO, Export Development Board (EDB), Bandula Egodage, FAO Representative, Sri Lanka, Beth S. Crawford, top officials of the EDB and fishery stakeholders were also present.
"Two important developments are seen in our aquaculture sector. One is the concern raised by some environment activists about emerging 'Red Lists', the other becoming an export trend-setter.
As we supply more fish some native fish varieties are threatened with extinction and enter the 'red list'," said Minister Bathiudeen.
"The government is not blind to this trend and is taking positive steps to meet the threat. Of the 90 varieties of Lankan freshwater fish, 50 are considered to be endemic to Sri Lanka," he said.
"The Government will intervene in securing new technology to provide information and incentives to medium and small scale ornamental fish entrepreneurs to access international markets," the Minister said.
"Budget 2015 has allocated almost US $ 2 million for the fisheries sector. Among the notable initiatives are increasing inland fishery production to 20% of total fish production, loan schemes to assist SME entrepreneurs to develop fish farms, allocation of US $ 1.5 million to develop 1,000 inland fish farm villages, setting up NARA Fish breeding centres and providing US $ 380,000 for the expansion of ornamental fish exports," Minister Bathiudeen said.
"We enforce certain ornamental fish import regulations to safeguard our fish base. The EDB has launched six ornamental fishery projects in the Polonnaruwa district to expand this base.
Therefore, considering these initiatives there is no need to worry about our fish varieties going into 'Red Lists'," he said.
"The other development is that this sector has become a trend-setter in our journey to become a premium product supplier to the high-end global markets," the Minister said.
"The Sri Lankan ornamental fish exporter earns high profits fairly quickly with low volumes.
"Therefore, there is a need to improve the value chain here to enhance international earnings," he said.
"For example, breeder capacity-building such as providing animal 'quarantine awareness and capacity', higher holding capacity, live-fish handling capacity enhancement and directly linking them to international markets are some important factors for consideration," the Minister said.
"The country supplies a diverse range of ornamental fish ranging from fresh and marine water to brackish water fish," he said.
"About 40 regular exporting companies in Sri Lanka have successfully taken a 2.7% share of the US $ 400 million global market. In 2013, Sri Lanka exported ornamental fish worth US $10.7 million. This is an increase of 41% compared to 2012," Minister Bathiudeen said.
"The US, UK, Germany, Japan and France are our top-five buyers. Among the recent new markets are Switzerland, Spain and Taiwan. I invite international players here today, to consider partnering Sri Lanka's growing ornamental fish industry," he said.
President, Ornamental Fish Association, Dr Gerald Bassleer said, "I have been in this industry for 37 years. I see big changes here since my last visit to the country 20 years ago. The quality of Lankan ornamental fish is today one of the best in the world."
"We clearly see the great quality of Lankan live fish arriving in our ports, with high survival rates, a diverse range of colour and a good price. The secret of Sri Lanka's success is the quality control within fish farms with support from your Government," he said.
"Today, Sri Lanka is developing as an export economy. All indicators are favourable and the EDB has contributed immensely to growth," said Chairman and CEO, EDB Bandula Egodage.