ComBank commissions drive-through ATM at Gampaha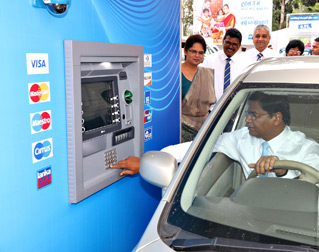 The Commercial Bank of Ceylon has commissioned a drive-through Automated Teller Machine (ATM) at the Bank's Gampaha branch, for the convenience of customers.
Similar drive-through ATMs were set up recently at it branches at Reid Avenue and the 'K Zone' Shopping Complex in Ja-ela.
In addition to facilitating withdrawals, Commercial Bank's ATM machines enable convenient settlement of water and electricity bills, bills of Dialog, Mobitel, Etisalat, Hutch and Lanka Bell networks, and Commercial Bank Credit Card payments 24-hours a day, 365-days of the year.
The Bank's network of 600 plus teller machines is also linked with millions of ATMs across the world.
Commercial Bank's Deputy General Manager, Personal Banking, Chandana Gunasekara commissions the new drive-through ATM at Gampaha. AGM, Personal Banking, Mrs Sandra Walgama, Senior Manager Nishantha de Silva and Senior Regional Manager, Colombo Metro, Roshan Perera look on.