Franz Liszt: combined a fierce and creative fire
Franz Liszt (1811-1886) was a major figure in the19th-century music, an innovator in the way he combined a fierce and unquenchable creative fire with a fully developed connoisseur's appreciation of the music of contemporary composers and of giant figures from the past.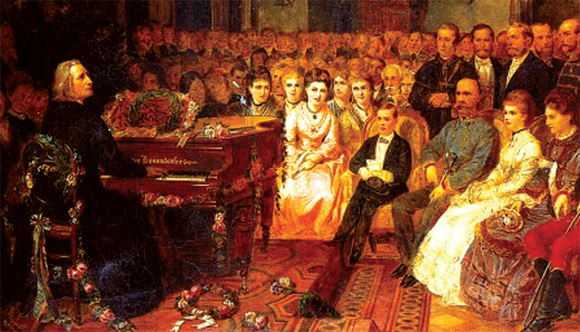 The only child of Adam and Anna Liszt, Franz was born in Raiding, Hungary. The small town came under the administration of the Esterházy family who employed Adam as a steward. Franz showed musical promise early, beginning lessons with his father before he was six; by the age of seven he was writing music. Three years later the boy was ready to make his concert debut in the nearby town of Sopron.
This was followed by two more concerts performed before the cream of Austrian society. As a direct result, young Franz was given an annual stipend for six years to enable him to concentrate solely on a musical career. His father secured Karl Czerny, an ex-pupil of Ludwig van Beethoven, as Franz's piano teacher, while Antonio Salieri taught him theory. As both Czerny and Salieri lived in Vienna, the family moved there in 1821.
During his time in Vienna Liszt had the good fortune to meet Beethoven, who although profoundly deaf, attended one of his concerts and bestowed his blessing on the boy.
Franz's reputation spread quickly, and before the end of 1821 he had been chosen as one of the 50 composers (others included Beethoven, Czerny and Salieri) to write a set of variations to a waltz written by the composer/publisher Diabelli. By the autumn of 1823 Franz's father decided it was time to widen his son's audience and moved the family to Paris. Liszt took the Parisians by storm. He also completed his musical education by taking private lessons from Anton Reicha and Ferdinando Paer.
A visit to London in 1824 was a triumph, crowned by a private concert before George IV. By late 1825 Franz had even composed a one-act opera, Don Sanche, which was premiered in Paris to a mixed reaction. The next two years brought constant travel through much of Europe, financial rewards and the premieres of a stream of juvenile works, a few of which have survived in their original form. By the summer of 1827 Franz, still only 16, was exhausted and took to his bed in Paris.
Doctors recommended a cure at the baths in Boulogne, to which both father and son returned. Shortly after their arrival, Franz's father, aged 51, died from typhoid.
The death of his father forced Liszt to re-evaluate his career choices. Already deeply disaffected with the life of a touring virtuoso, he found the prospect of prolonging it repugnant.
For him, music was a noble calling; being "a musician in the employ of the rich, who patronized me and paid me like an itinerant entertainer" he felt to be degrading.
Arranging for his mother to join him in Paris, he earned a living by teaching piano to the children of the rich and influential, falling deeply in love with the 16-year-old daughter of a cabinet minister. Though his feelings were reciprocated, her father objected and the girt was quickly married off to a socially acceptable suitor.
Liszt never forgot her, even making provision for her in his will. For several years he withdrew from the world and even considered entering a seminary. He had lost the way forward. It took the 1830 revolution in France to present him with a solution.
For a young man with a passionate commitment to social equality and democracy, the overthrow of an autocratic monarch was profoundly inspiring: he immediately planned a Revolutionary symphony to express his sentiments and although he never progressed very far with the idea, it had the effect of bringing him out into the world again.
A series of musical events in 1830-31 cemented his renewed ties with humanity and confirmed the form his artistic voice would take.
Attending the first performance of Hector Berlioz's Symphonie fantastique, Liszt was overwhelmed by the vivid expression of such turbulent ideas and emotions.
He applauded wildly according to Berlioz, dragging him off "for dinner at his house and overwhelming me with his enthusiasm".
The two became friends, Liszt learning a great deal from Berlioz about scoring for an orchestra.
Three months later he was in the audience at Niccolò Paganini's Paris début.
Again he was overwhelmed, this time by the sheer demonic pitch of Paganini's virtuosity, and his charismatic presence. Soon after the concert, he began work on the first Étude d'exécution transcendante d'après Paganini, works long regarded as a set of impossibly difficult piano pieces.
At the end of 1831 Frédéric Chopin (then 21) arrived in Paris and held his first concert. Liszt was again present and true to his open nature immediately declared his belief in Chopin's genius, a belief that was never shaken.
All the composers helped define the approach Liszt took towards his own compositional wizardry and helped him to mould his talents until his audiences became as possessed by his music as himself.
But it required one more event to put all the encounters into perspective: in 1833 Liszt, still only 22, fell in love with Countess Marie d'Agoult, a married woman of 28.
- Internet