Winner: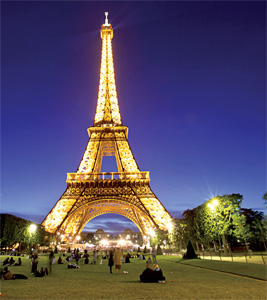 The Eiffel Tower
The moment you hear the word 'Paris' your mind revolves around one object – the 'Eiffel Tower'. At least that's what it does for me.
I always wanted to visit the Eiffel Tower, a structure of magnificence. It was erected in 1889 and artistically designed by Gustave Eiffel. It was named after him.
The tower is the tallest structure in Paris, and is a well-known landmark in France. It is also the most visited monument in the world.
The tower has three levels for the public. The third level is the observatory, which is in the upper platform 279.11m high.
In the morning, the tower shines at the top of a long beautiful garden. The long overgrown trees dominate the lovely greenery beneath, which makes it look like a painted picture.
There are many restaurants and cafes under the tower. The tower itself has two restaurants. Eating there is a dream come true. The Le Jules Verne is a gastronomical restaurant on the second floor, with a private lift.
Paris is known for fashion and glamour but the most striking is the exquisite tower at night. When the tower is lit up, the tower looks like a Christmas tree. The iron lattice glows, embellishes and looks fabulous. The garden lights too give the feeling of living in an inventive painting.
---
Winner:
Let's take care of text books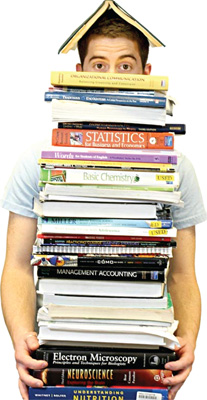 As Children, we are the foundation of the future generation. We should build a good future. So we should study well. We use various materials for our education, specially books.
There are various kinds of books from which we study. Among them are text books, exercise books, papers, story books and magazines.
Text books are the most important materials for our education. These are provided by the Government. We obtain these books free. They are valuable for us. The Government spends a lot of money for this. They want to develop our education.
Today students do not value the text books. They don't use them carefully. They draw pictures in the books and tear their pages. Some children destroy them. Others leave their text books under the desks in school. It is a bad habit.
They deprive themselves of an education.
They have various other goals. Education isn't their main ambition. They don't love the text books. Unfortunately, they can't understand their value and behave foolishly.
Some students however know the importance of text books. They use them very carefully. They love them and take care of the books. They paste stickers and cover them with polythene. They look after them like their eyes. They think, "Books are their eyes". They respect and worship books. They use books and keep them neatly. They protect the text books and show gratitude.
We should read text books frequently because we can develop our knowledge step by step. I use text books carefully. We can't learn without text books. We can study many difficult lessons from the books. We should protect them for our future generation.
---
Winner:
A bicycle speaks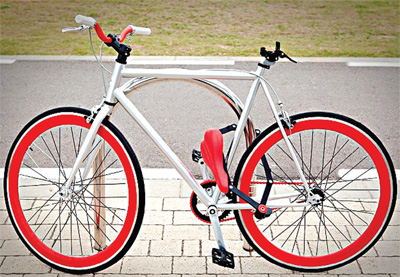 I am a mountain bicycle. I am blue. I am made of iron and rubber. I was made in a big factory in Japan. I have many brothers and sisters. I am pretty because of my colour.
One day a person put me and my brothers and sisters into a large box and sent us to Sri Lanka. After we landed in Sri Lanka we were taken to a bicycle shop in Negombo by lorry.
I was there for a couple of weeks. One day a girl came with her parents. She went around the shop and finally stopped near me. She bought me and I was taken to her home. Her home garden was beautiful. I was taken in a car and was kept at the backyard.
My owner is Mihashi. I am happy now because she takes care of me. She rides me to church and the park. In the evening she rides me in her garden. As she rides me she keeps herself healthy. My owner loves me and I love her too.
---
Winner:
Saradiel of Uthuwan Kanda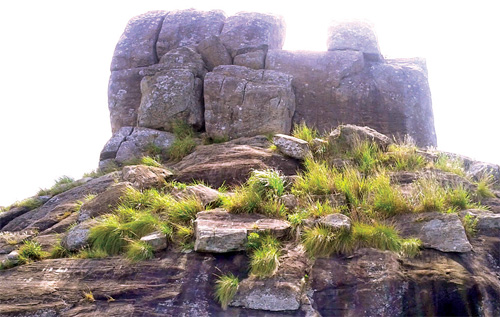 I have read many interesting stories about our national heroes. The name "Saradiel" is synonymous with our history, but he is not considered a hero.
His name is important in Sri Lankan history because of his dedication to the poor people and fairness which he tried to achieve. That's why his name is spoken of with Robin Hood who was also helping the poor.
When you travel from Colombo to Kandy just as you pass Kegalle town you can see a picturesque mountain decorated with a rock in the city of Mawanella.
It is known as 'Uthuwan Kanda'. The British named it as 'Castle Rock.' Eventhough Saradiel is dead, Uthuwan Kanda is still there to remind us of Saradiel.
Adasi Appu and Pichohami's eldest son was Saradiel. He was born in on March 25, 1820.
As other parents Adasi Appu and Pichohami also had high expectations about their son. They tried to send him to different teachers, but all were in vain and Saradiel's name was added to Sri Lankan history as a robber and a gangster. Historians who studied Saradiel's background have said the gap which existed between the poor and the rich was the cause of Saradiel's action.
Later on, Saradiel and his friend Mammale was added to Sri Lankan history as the people responsible for the first officer's death.
In 1864 March 21, police officer Sabahan was killed in an attack when they tried to arrest Saradiel and his friend Mammale.
On May 7, 1864 Saradiel and his friend Mammale were hanged by the order of a High Court judge.
Now this picturesque land is protected and decorated as Saradiel village by philanthropist Dr. Ariyasena Gamage. It is preserved for posterity.
---
Winner:
What children like to do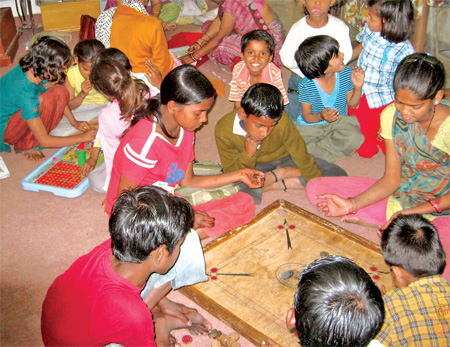 There are so many children in the world. They like to do many things. Some children like playing outdoor games, some like playing indoor games, some prefer to watch television and play video games. Some of these things are good and some are bad in some ways.
Children who like to play outdoor games develop their physical and mental health. They become active and strong by playing games such as volleyball, netball, basketball and football. They can do various tasks successfully. They can work in a group and make friends.
Some children like to play indoor games such as chess and carrom. These games improve the mental health and the memory of children. Those who play these games get high marks for Mathematics.
Watching television and playing video games are the most popular activities that children nowadays like to do. But they are harmful for children in many ways.
They cause mental illness. We have to choose good things to do in our leisure time.
---
My heart
My heart is filled up with gold,
And also filled up with bold.
No one can defeat me,
Because I am a busy bee.
My heart is filled up with gold,
And it never becomes old.
My confidence and memories will neverend,
Until my heart goes down.
My heart is filled up with gold,
And if your heart is also filled up with gold,
You will never lose your confidence and memory,
At anytime by anyone.
---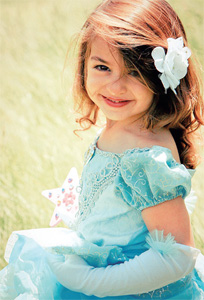 Myself
My name is A.S. Isini Lakeesha. I am seven years old. I am a good and pretty girl.
I have one brother. I attend Vijitha Central College. I am in grade two. My class teacher's name is Shiromala. My mother is a teacher and my father is a clerk.