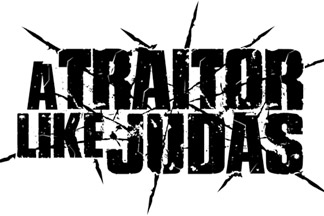 The greatest betrayal: Part five:
Fonseka, Sajith prime targets amidst rumours
Suspicion clouds Opposition's campaign
Suspicion has taken center stage in New Democratic Front (NDF) candidate Maithripala Sirisena's election campaign.
While JHU stalwart Athuraliye Rathana, UNP deputy leader Sajith Premadasa and the architect of the common candidate concept Maduluwawe Sobhitha Thera maintained a low profile last week, Maithripala appeared to be a dejected man after being isolated by some of the senior party leaders in the so-called joint Opposition.
Maithipala is gradually finding that what Democratic Party leader Sarath Fonseka said at the beginning of the campaign is right. Speaking at the beginning of the so-called common candidate's campaign, Fonseka said that he has the best such experience and all those party leaders in the Opposition who had been backing him during the campaign were found missing overnight after his defeat.
Fonseka said that none of the party leaders in the common Opposition were there for him after he lost the election and he had to wage his own battle for survival after the defeat.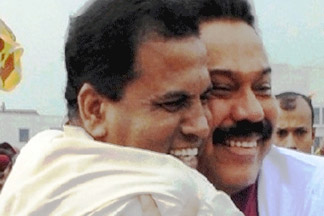 But Maithripala is experiencing it even before his impending defeat. Fearing that two of the prominent leaders in the joint Opposition would extend support to President Rajapaksa, Fonseka has begun suspecting every one.
He does not believe anyone in the Opposition camp, fearing that two leading players would inflict severe blows to his campaign.
Sarath Fonseka and Sajith Premadasa have been the two prime targets who had been deliberately kept out of inner circle meetings. Friday's granting of bail to Fonseka's son-in-law Dhanuna Tillakaratne has made Maithipala even more suspicious of the former Army Commander. Insiders said that Maithripala is now suspecting even his closest buddies.
Prized catch
"Because he has done a Judas, he assumes that there could be another Judas who would be a traitor to him and buckle the election campaign," an inside source said.
Maithripala had even expressed his dissatisfaction to former President Chandrika Bandaranaike Kumaratunga on her promises which are yet to become a reality. Although Chandrika had initially said she could get 45 Government ministers to support Maithripala's candidature, she had only been able to get only three ministers and a couple of parliamentarians while the Government had the prized catch of Tissa Attanayake.
Chandrika is now struggling to maintain her image. At the beginning of the Opposition's campaign, she talked big and said that she would be able to get more than half of the Government ministers and MPs. But she has cut a sorry figure, having failed to get even ten of them! Promising finances to woo support for Maithripala's campaign, several INGOs and a couple of Western missions here have pumped a staggering sum, assuming that they could cause a regime change.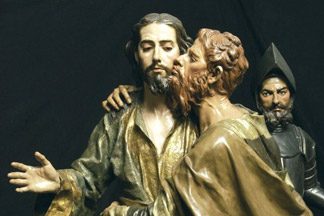 Even Maithripala thought that Chandrika would make a huge impact on his election campaign though he had turned traitor to the SLFP and the President. That is precisely why Maithripala boasted of getting the Government Ministers and MPs to his campaign stage in batches – 20 at the start and 10 each week in the lead up to the January 8 poll.
Heat
But except for notorious figures such as Rajitha Senaratne, who was convicted for trading with the Government and was unseated from Parliament and 'chit' MPs such as Rajiva Wijesinghe who has not won the people's franchise, hardly any creditable Cabinet Minister or a Government MP joined Maithripala's stage.
Hence, Maithripala is gradually feeling the heat as Chadrika continues to give false promises to Maithripala. This situation is similar to what Mangala did to Sarath Fonseka during his 2010 election debacle.
Mangala gave dubious figures on crowds present at the joint Opposition rallies in 2010 and Fonseka totalled the numbers assuming that all of them would vote for him. Fonseka was furious after his humiliating defeat and reprimanded Mangala for misleading him.
Knowing what Maithripala's fate would be by the time the election results are announced on January 9 evening, Chandrika is sending SOS calls to all her contacts. She continues to hang on to her satellite phone given by a Western diplomat, firing repeated call to Cabinet Ministers and Government parliamentarians.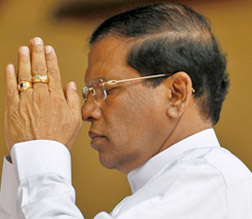 But even those who had been extremely close to Chandrika during her tenure as President politely reject her lucrative offers.
Maithripala has pleaded with Chandrika to woo the support of at least a couple of UPFA parliamentarians to boost the morale of his campaign. Even Mangala had said that there is an unbelievable drop in their campaign after an explosive start with Maithripala's betrayal.
The inner circle of the NDF candidate which met behind closed doors on Tuesday has admitted that their campaign was like 'opening a soda bottle'. There had been huge differences when drafting Maithripala's election manifesto.
Although Maithripala preferred not to jump the gun by naming a Prime Ministerial candidate, Ranil had insisted that his name should be included in the manifesto as the Prime Minister, fearing that Chadrika would enter from the back door. That is where uncertainty and suspicion loomed within the Opposition tanks.
Can betrayers protect peace?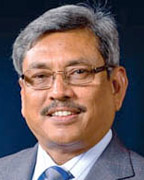 "The question we must all ask ourselves at this point in time is whether we are willing to risk the future of Sri Lanka by weakening our resolve to protect what we have legitimately achieved. Can we trust those whose past actions were dictated by external pressure, to do what is best for Sri Lanka in the future?" Defence and Urban Development Ministry Secretary Gotabaya Rajapaksa queried.
He made these observations addressing the 'Momentum Event' at the Cinnamon Grand, Colombo on Wednesday.
Peace exists because the President had the political will, the determination and the courage to see the military campaign through to the very end, the Defence and Urban Development Ministry Secretary said.
"Peace exists because the Armed Forces carried out an extremely difficult operation undergoing immense hardship for three and a half years to defeat the terrorists. During this time, more than 6,000 brave soldiers gave their lives and 25,000 more suffered serious injuries to win our freedom from the clutches of LTTE's terror," he said.
"The most critical thing for Sri Lanka today is the maintenance of stability. Ensuring that our present momentum does not falter needs continuity above everything else. All the problems caused by the three decades of terrorism and lax governance of past governments cannot be solved in five years," the Secretary said.
"The sheer range of issues is far too great to have been dealt with comprehensively in such a short span of time. In fact, in consideration of how vast these challenges were, the progress that has been achieved by the incumbent government since the end of terrorism is truly remarkable," Secretary Rajapaksa said.
"Between 2006 and 2009, the government's focus was on ending terrorism and bringing peace to Sri Lanka. From 2009 to date, its focus has been on maintaining that peace, stability and security whilst creating an environment conducive to sustained economic growth.
"As we go forward, I am absolutely certain that all the remaining issues we face as a nation, including issues of national reconciliation and good governance will be systematically addressed and solved by the government.
"This will contribute to the creation of a resurgent Sri Lanka that can stand proudly and independently as a peaceful, stable, fast growing, sovereign state in the community of nations. If this is to be the case, we must not stray from the transformative path we have been on for the last several years. Instead, we must continue on the journey we have been on, together," he added.
"It is both our duty and our privilege to sustain our present momentum as a nation and achieve all we can for Sri Lanka and all Sri Lankans," he said.
"Because of this misreading of the nature of the LTTE threat either through naďveté or willful ignorance, and also as a result of certain geopolitical agendas, some influential foreign governments did not quite support the government's decision in 2006 to pursue a military solution to the terrorist conflict.
"Although several friendly countries had banned the LTTE, not all of its activities in the international arena were stopped. For example, the LTTE continued raising funds through various means and very successfully procured weapons overseas," Secretary Rajapaksa said
"Members of LTTE linked groups also exerted significant pressure on the Sri Lankan government to stop the Humanitarian Operation. They intensively lobbied foreign governments, organised large public protests and used their influence with the international media to make various allegations against the Sri Lankan military," he added.
Another Polonnaruwe Podi Wije?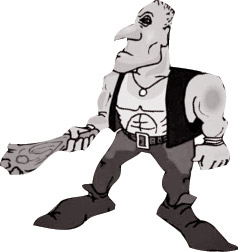 Remember how NDF candidate Sarath Fonseka threatened during his 2010 Presidential election campaign - to bring his opponents to Galle Face Green and punish them in public?
Five year later, another NDF candidate contesting the 2015 Presidential election – Maithripala Sirisena, has made a similar statement. Maithripala brought back old memories of underworld leader Polonnaruwe Podi Wije when he threatened to close the country's international airport to prevent his enemies leaving the country after his 'victory'.
Maithripala said that he would close the gates of the airports on the night of the election day – January 8, to prevent anybody leaving the country. He said only those whom they clear would be granted permission to leave the country.
Isn't this a direct threat to the judiciary from a man who boasts of good governance and independence of the judiciary? In any country, only a court of law (a judge) could give an order to prevent a person travelling abroad.
By making such a sweeping statement, Maithripala has given an early indication that he would acquire the powers of the judiciary too, instead of abolishing the Executive Presidency as promised!
Not trustworthy, should be shunned by all Buddhists - Chief Sanghanayake of the US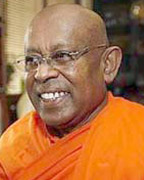 Chief Sanghanayake of the United States, Dr. Walpola Piyananda Thera said that NDF candidate Maithripala Sirisena was not trustworthy and should be shunned by all Buddhists as he had broken a promise he had made by placing his hands on a casket containing the sacred relics of the Buddha.
Addressing a public rally organised by the Mahajana Eksath Peramuna at Sathosa auditorium at Homagama on Wednesday evening, Ven. Piyananda Thera had said that Maithripala had sworn by the casket of relics of the Buddha in the presence of JHU's Ven. Ellawela Medhananda that he would never desert the President Rajapaksa or the Sri Lanka Freedom Party (SLFP).
"He had taken that oath by placing both hands on the casket of relics brought to Temple Trees in view of President Mahinda Rajapaksa's birthday. A person who does not honour such a solemn pledge could not be considered a Buddhist. Hence, All the Buddhists should shun such a person," the Nayaka Thera said.
"Not only Buddhists, but also all other religions should stay away from such an untrustworthy person. Catholics would never renege on a vow taken on the Holy Bible and Muslims would never break a promise made on the Holy Quran. For us nothing is holier than the Buddha's relics. In less than 24 hours after swearing on the relic casket, Maithripala joined the Opposition leaving the President and the SLFP," the Chief Sanghanayake of the US said.
Ven Piyananda said that a person capable of lying with both hands on a relic casket can betray anyone, adding that Maithripala seems to be working on the instructions of a foreign power.
"He has shunned the Arya Sinhala national dress to wear an alien jacket. People should understand this and must do their part to defeat this threat to the national interest," Ven. Piyananda said.
Opposition meets LTTE agents in Singapore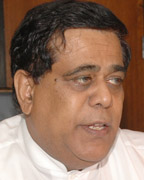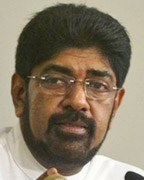 Nine members of the Transnational Government of Tamil Eelam were in Singapore the same time as Maithripala, Ranil, Chandrika, Mangala and company were in that country recently.
UPFA ministers yesterday said they will reveal all the secret conspiracies hatched by some top members of the common opposition while in Singapore.
Addressing the media at the SLFP Headquarters yesterday, Irrigation and Water Resources Management Minister Nimal Siripala de Silva said the common opposition is supporting anti-Mahinda Rajapaksa conspiracies under the guidance of various international forces.
He said since November 2, 2004, Chandrika Kumaratunga, Maithripala Sirisena, Champika Ranawaka, Ranil Wickremesinghe, Mangala Samaraweera and Sarath Fonseka had been visiting Singapore on different occasions.
"We are in the process of discovering more information about these Singapore tours. According to the information already received, nine ministers of the Transnational Government of Tamil Eelam were also in Singapore during the same period. We will reveal this mega betrayal by the common opposition with the Transnational Government of Tamil Eelam," the minister said.
Mass Media and Information Minister Keheliya Rambukwella said several members of the common opposition had visited Singapore recently and nine out of 13 members of the Transnational Government of Tamil Eelam were also in Singapore during same time period.
"Several opposition members including Maithri, Ranil, Chandrika, Champika, Sarath Fonseka, Hirunika, Digambaram and Mangala had visited Singapore recently. Nine members of the Transnational Government of Tamil Eelam were also in Singapore during that time. What is this discussion? There are trying to destroying the stability of the country," the minister said.
Rambukwella said when a country has a patriotic leader who can face any international challenge, no force cannot be allowed to raise its head.
The minister said several heads of western countries visited the country during the latter part of the war and wanted to stall the humanitarian operation.
"But they couldn't do it. Today they are attempting an Arab Spring. But it cannot succeed without the support of the majority of Sri Lankans," he said.
"The common opposition has an agreement with 44 people. It is questionable how they can ensure the stability of the country through various opinions of all of them. People in this country will never let them destabilise the country," the Minister said.
Minister Rambukwella said more than 90 percent of women in this country have come forward to support President Mahinda Rajapaksa at the presidential election. "It is the women of this country who suffered the most during the war and now their children, husbands and brothers are able to live without fear and sorrow. They have come forward to pay their gratitude to the leader who brought peace to the country," he said.
Dejected Maithri gives up belief in horoscope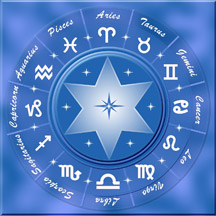 Over 82 percent of the leading astrologers both here and in India have said that NDF candidate Maithripala's horoscope does not have a 'raja yoga' and that he is going through a lean period in his life for the next nine years.
Fearing that this phobia would mentally affect him, Maithripala has taken a decision – to publicly declare that he does not believe in horoscopes.
Addressing an election rally last week, Maithripala expressed that he has no faith or belief in astrologers or personal horoscopes. Many of whom who had seen how blindly Maithripala had gone behind astrologers, even for the simplest matter, had their last laugh.
Maithripala now accuses astrologers of scaring the public by spreading false rumours. "Now some astrologers attempt to cast bad omens on me. They would tell you nothing, but lies," he added.
'Chandrika's conduct, a disgrace to the Bandaranaike family'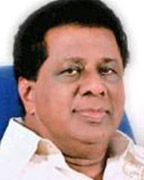 The manner in which former President Chandrika Bandaranaike Kumaratunga is acting today is a disgrace to both the Bandaranaike family and the Sri Lanka Freedom Party (SLFP), Fisheries and Aquatic Resources Development Deputy Minister Sarath Kumara Gunaratne said.
"The Bandaranaikes, a family that rendered a great service for the well-being of Sri Lanka and the SLFP was the first political party to introduce a people-friendly government. Former Prime Minister S.W.R.D. Bandaranaike did a great service for the country laying the groundwork for a strong economy while making the dreams and aspirations of the common man come true.
"President Mahinda Rajapaksa who brought the country under one banner by defeating terrorism has made the SLFP the only people-friendly political party once again," the Deputy Minister said.
"Former President Chandrika and a former SLFP General Secretary Maithripala Sirisena have joined hands to cast aspersions on the country's very first public-friendly political party - the SLFP," he said.
"But now the people have clearly understood the needs and wants of Chandrika and Sirisena. They have already understood that Chandrika did not do anything for the well-being of the country during her 11-year rule. Hence, the public will never again repose their trust in Chandrika and her clique," Gunaratne said.