Vision 2020:
Lanka to be the 'Wonder of Asia'
The economic losses and the death toll during the 30-year battle against terrorism is still having its toll. While families are trying to come to terms with the loss of their loved ones, corporate entities such as SriLankan Airlines which lost six aircraft by the terrorist attacked is still recovering the losses. Several five star hotels, The Central Bank and many other iconic places were attacked by the LTTE.
In this backdrop when the political leaders made pledges during elections saying that they would end the war and usher permanent peace, many people did not take it seriously and it was considered a common political promise that would never be fulfilled.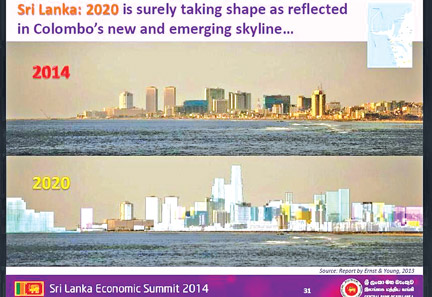 The previous four executive presidents could not take bold decisions to eradicate terrorism and the problem dragged on for nearly 30 years.
There were several infamous international issues such as the 'parippu' drop, bringing down the IPKF which prompted the forward march of security forces thus giving the upper hand to the LTTE due to political pressure from overseas.
However, President Mahinda Rajapaksa took several meaningful decisions locally and internationally and led the world's biggest humanitarian operation to defeat the world's most ruthless terror outfit, fulfilling his promise he made.
The second task was to rebuild the war torn nation which was lagging in infrastructure facilities.The government set up a vision for 2020 with a five-hub concept to elevate the country to a middle income country by 2020.
A task force was set up and once again far reaching political decisions were taken and the plan for 2020 was put to practice.
The start of this mega development drive was from the North and East and billions of rupees were invested to add key infrastructure to the province ravaged by the war.
Roads were re-laid and after 20 years the Yal Devi train resumed operations.
Looking back, for nearly a half a century, an average Sri Lankan was earning around US Dollars 1,500 and in the last few years due to this economic plan and economic benefits of ongoing rapid development, trickling down to the masses, per capita income increased to around US Dollars 3,900 a month.
It took South Korea nearly 40 years after their war to increase the per capita income to around US$ 7,000. Sri Lanka targets to reach that milestone by 2020, 11 years after its 30-year battle against terrorism.
Sri Lanka's per capita income would surpass US$ 4,000 by 2015 while the GDP would reach US$ 100 billion in 2016.
The Real GDP growth which was as 5% in 2000 is expected to be at 7.8% by end of this year.
The GDP which was at US $ 16.6 billion is predicted to be 77% by 2014 which would be a remarkable growth of 176% in eight years.
The annual inflation for the past five years has being maintained at a single digit at around 5%. Foreign Direct Investments too is expected to be around US$ 2 billion this year, GDP is moving steadily towards greater sustainability from 96.9% in 2000 to 74.3% by end of the year. In addition by 2020 Sri Lanka targets a GDP that would be around US$ 150 billion.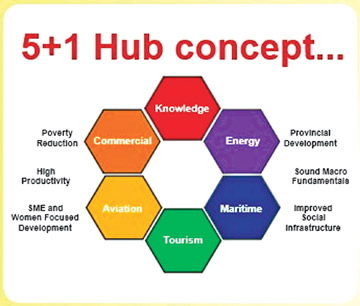 By 2020 worker remittances would be mainly from a skilled and semi-skilled labour force, treated with greater care, dignity and respect while the financial sector would be stable and would be having a presence in the region, providing services in Asia.
By 2020 Sri Lanka sector composition too would undergo a change with a more modern and high yielding agriculture sector of US$ 10 billion (6.7%). In 2013 this was at US$ 7.2 billion.
In over five years time, now a more innovative and advanced industrial sector of US$ 50 billion (33.3%. in 2013 this was at US$ 21.8 billion) and a more broad-based and dynamic services sector of US$ 90 billion (In 2013 at US$ 38.1 billion) too would emerge.
During 2020 the country would have greater market for export of services. For 2020, Sri Lanka should be among the first 20 countries in the Doing Business Ranking and would have an investment grade sovereign rating with a positive outlook.
"The "5 Hubs ++" concept spelled out to take Sri Lanka to be the Wonder of Asia would have progressed quite well, and each hub as well as existing drivers of the economy would be operating at enhanced levels."
Aviation
Aviation is yet another sector in which hub status has been envisaged for Sri Lanka.
With humble beginnings and modest growth over several decades, Sri Lanka's aviation industry has snowballed into being a key player in the national economy now providing rapid international access via two international airports serving the two national carriers and 23 other carriers connecting 60 destinations worldwide.
The Bandaranaike International Airport (BIA) handled 7.3 million passenger movements in 2013, 22% in excess of its designed capacity, exhibiting a remarkable growth of 72% over a period of 5 years and approximately 19% are transit movements which indicate a growing potential for achieving passenger hub status.
Cargo operations have also flourished with a throughput of 192,550 metric tons in 2013.
In order to cope with the capacity problem the phase II stage 2 of BIA development project was launched in September 2014.
The commissioning of the Mattala Rajapaksa International Airport (MRIA) at Hambantota in March 2013, in addition to enhancing the total national passenger and cargo handling capacity, has had a positive effect of increasing the air traffic within Sri Lanka's airspace by 100% with many operators opting to make their long-haul flights through it, given the enhanced emergency diversion capacity at Mattala.
These include the ultra-high capacity modern aircraft like the Airbus 380. Amidst these growths, Sri Lanka enjoys, the fifth rank in the Asia Pacific Region in effective safety implementation as determined by the ICAO's Universal Safety Oversight Audit Programme (USOAP).
On completion of the BIA development project, its capacity will increase to 15 million passenger movements per annum.
MRIA too is to be developed to handle 6 million passenger movements per annum.
Vision 2020 encompasses the increase of the national carrier fleet to 26 aircraft thus gearing the country to attract 4.5 million tourists annually by year 2020.
MRIA offers lucrative investment opportunities that are directly linked to aviation as well as those catalysed by it.
A few examples are domestic aviation, MRO (maintenance, repair and overhaul) services for airlines, freight forwarding, tourism, hospitality, flying schools, industrial parks, adventure and recreation.
Shipping
It is the first time in the history that five international harbors are being built and developed. Galle is being transformed as the regions first leisure harbor while Oluvil would be focusing on the fisheries sector. In addition the Hambantota Harbor built with Chinese assistance would be focusing on transshipment while the Colombo South harbor is being developed to cater to more vessels.
Trincomalee is developed with tourism and cargo and a major investment zone is created in Hambantota and Trincomalee for port related activities.
Kankasanthurei is being developed with the assistance of the government of India to be the fifth international harbor.
With returns on the investment, already coming from both Colombo South and Hambantota harbors, two artificial islands are also being developed for leisure and residential activities similar to Palm Dehera in Dubai.
Knowledge Hub
The high literacy rate and internet access for all Sri Lankans, was one of the key factors to launch a Knowledge Hub concept. The knowledge hub targets Information Technology (IT) literacy and internet access for all, creating knowledge-based jobs, commence degree programs directly targeting foreign students and accredited foreign universities to set up university colleges in Sri Lanka.
The energy hub envisages the development of renewable energy sources, new oil refinery at Hambantota, oil exploration and production in three sea basins (offshore) which have been identified in Mannar, Cauvery, and the Southern waters to develop oil trade-related ancillary services including gas.
Commercial Hub
The commercial hub envisages the establishment of Sri Lanka as the foremost centre in the region in the provision of commercial services, international banking and international investments and a Singapore-type model to be followed via the growth of ports and tourism. The main challenges here include the development of physical infrastructure, digital infrastructure, human capital infrastructure and regulatory and legal infrastructure.
Growth of ports and tourism will be a catalyst to the development of Sri Lanka's commercial sector. IT parks in Hambantota and IT city in Colombo too would help to promote this segment.
Tourism sector would be catering to about 4.5 million tourists while Sri Lankan business conglomerates would be enjoying business relationships with key Asian, European and US counterparts.
Professionals
With the end of the battle against terrorism and political stability that was witnessed in the past decades had resulted in private sector maintaining high balance sheets.
Professionals were identified by President Mahinda Rajapaksa as one of the most important groups in the society and they were offered various concessions which included duty free car permits, concessionary rates of taxes like 16% on employment income, 24% on personal tax and low interest rate on borrowings.
In addition professionals were given a conducive environment to carry out their practice by bringing opportunities through foreign investments and other avenues.
The positive political environment since 2006 helped corporates to effectively steer the economy out of global crisis and turbulent times in the recent past.
During the last six to eight years the government has been focusing on meeting economic targets such as the per capita income, growth rate, low unemployment, inflation, foreign reserves and other identified indicators. The government was successful in this regard as the efforts have come to high praise from the World Bank, International Monetary Fund and many other institutions.
The developments in the city of Colombo to make it a true international City with modern facilities under taken by Urban Development Authority are already being lauded locally and internationally.
The amasing transformation and restoration of colonial building such as the Dutch hospital, Race Course and Old Secretariat building near Independence square long with the introduction of walk ways and green space is being much appreciated.
These development and the peaceful atmosphere is drawing high end tourists to Sri Lanka which is resulting in world famous names such as Hyatt, Shangri La, Movenpick, OZo, Best Western coming in to Sri Lanka. In addition to make way for the future housing demands several sky scrapers too are being built.
Sri Lanka has already shown that it is an excellent case study of a transition from terrorism to peace and development and the targets mapped in the Vision 2020 plan, would certainly take the country to be the Wonder of Asia.