Chinese biz delegation to meet Lankan counterparts
A 132-member business delegation representing 59 companies from the Sichuan Province of China is in Colombo seeking trade and investment opportunities.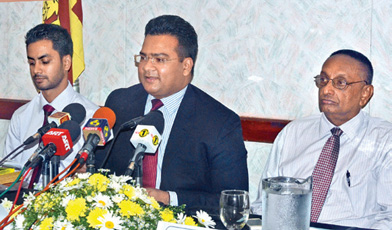 The B-to-B meeting with the Sri Lankan counterparts is due to be held today at the Galadari Hotel. The event has been organised by Sri Lanka-China Trade and Investment Promotion Chamber (SLCTIPC).SLCTIPC invites the business community to participate in this meeting, which is free.
The trade and investment discussions will be held under tea, tourism, furniture, pharmaceutical, e-commerce, textile and garments and hotel supplies sectors.
Chairman, SLCTIPC, Nihal Aluvihare said that this initiative aims at attracting US $ 1 billion in investments from China in 2015.
"We are working to achieve this target and we have negotiated three investment projects, a housing complex targeting luxury and semi luxury housing demand with a US $ 200 million investment, saline production factory with a US $ 20 million investment and a US $ 300 million hotel project," Aluvihare said.
Another investor looking for an opportunity to produce building materials will visit the country by the end of the month. The expected investment is $500 million and he is looking for a local partner," he said.
Aluvihare said that new trade opportunities are now open for exporters in the largest international trade city, Chengdu. This international trade city is a wholesale market like IWU.
According to the agreement signed by SLCTIPC with the trade city authorities, 20 trade stalls have been allocated for Sri Lanka, rent-free for three years. The shop spaces are now open for Sri Lankan exporters.
SLCTIPC has signed another agreement with North Chengdu International City and Aluvihare said that new opportunities have been opened for Sri Lankan exporters under this agreement too. For example in this trade city a separate tower has been constructed for tea. It has an exhibition centre, training centre and marketing centre and an area to display tea brands. Sri Lankan tea exporters can use this opportunity to increase exports, he said.