President Rajapaksa, leader who rescued nation from LTTE clutches -Minister Johnston Fernando
Co-operatives and Internal Trade Minister Johnston Fernando said that at the upcoming Presidential Election, the people will have to decide only one thing whether they vote for a leader of the calibre of President Mahinda Rajapaksa who rescued the nation from the clutches of the three decades of terrorism or vote for a person such as New Democratic Front (NDF) candidate Maithripala Sirisena who will betray the country.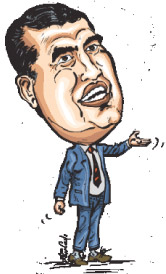 Those who betray the interests of the country will vote for Sirisena. Those who love their motherland and know how to extend their gratitude will definitely vote for President Rajapaksa, the Minister told the Sunday Observer yesterday.
"There is no other candidate who can pose a challenge to the incumbent President. Actually, this common opposition front has been formed by Sirisena and a few other political parties for their own benefit. UNPers are not so ignorant to vote for a candidate of the likes of Sirisena," he said.
Minister Fernando said that at present no UNP flag or Sirisena's cutouts can be seen. However, Sirisena likes cheap publicity. At earlier elections, the whole of Polonnaruwa was full of his posters, cutouts and banners. He didn't permit other UPFA candidates to conduct their election campaigns.
Although Maithripala Sirisena and a few other members quit the Government, it has no adverse impact on the SLFP vote base, he said. To safeguard Ranil Wickremesinghe's self respect, Sirisena has pledged to offer the premiership, in the event he wins.
The Sirisena - JVP combination would finally chase Ranil Wickremesinghe away. That is why Wickremesinghe is talking of the Constitution introduced by former President J.R. Jayewardena and not abolishing it.