Muslims should vote for President as token of gratitude - Minister Athaullah
Local Government and Provincial Councils Minister A.L.M. Athaullah said that the Muslims of this country should vote for President Mahinda Rajapaksa and express their gratitude to the President.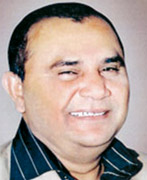 It is certain that the people are rallying round Mahinda Rajapaksa and his victory at the election has been confirmed.
He said so at the Divi Neguma beneficiaries meeting held at S.I. Kaleel auditorium at Irakkamam recently.
Irakkamam Divisional Secretary M.M. Naseer, Eastern Provincial Road Development Minister M.S. Udumalebbe, Irakkamam Pradeshiya Sabha Chairman U.K. Jabeer were present on the occasion.
The minister said that there was a time when students could not attend schools, devotees could not attend the Mosques, farmers could not go to their fields. Commuters could not travel in the busses.
But today the situation has completely changed. Terrorism has come to an end and the people in the country are living peacefully.
He said that the members of the Local Government Bodies have been awarded with motor-bicycles valued at Rs: 2 lakhs each.
Further, the allowances payable to the members of the Local Government Authorities have been considerably increased. Therefore we should vote for President Mahinda Rajapaksa at the forthcoming Presidential election to be held on 2015 January 08.