'Vishwakarma' Honorary Awards in Hambantota and Matara districts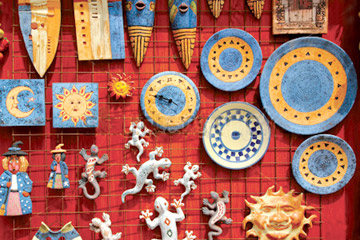 The National Craft Council awarded nine craftsmen with the "Vishwakarma" Honorary Award at a programs empowering craftsmen held in Matara and Hambantota districts recently. Over two thousand craftsmen participated at the event, which is scheduled to be held covering all parts of the island.
"As President Mahinda Rajapaksa pays special attention to the handicraft sector, these craftsmen should be given due respect by the society as they are the people who carry the glory of the country to the International level" said Minister of Agriculture Mahinda Yapa Abeywardene, who addressed the event at Weligama, Matara. He mentioned thus awarding the craftsmen with the "Vishwakarma" award, a program organised by the National Crafts Council to to make them receive the respect they deserve.
Buddhi Keerthisena, Chairman of the National Crafts Council said that after 2005, the National Crafts Council showed a huge success in it's activities and procedure and it was president Mahinda Rajapaksa who implemented programs to upgrade the livelihood of the craftsmen by allocating millions of funds through the national treasury and developing crafts villages strengthening local and International exhibitions. He said that the president has advised to corroborate with the Urban Development Authority in implementing sales centers in Colombo and main cities of the country in 2015 to get foreign exposure and sell handicrafts. The president has also said that he would take measures for solving problems of the craftsmen. Keerthisena further added the president's interest in this field would create a golden age to the handicraft sector in the country.
Chief Guest Minister of Agriculture Mahinda Yapa Abeywardane, provincial councillor of the Weligama Urban Council Ms. Thakshila Damayanthi, Mr. Ananda Kotadeniya, chief manager of the regional development bank (Head Office), officials of the Handicrafts federation graced the event held in Matara. Mr. Ananda Kotadeniya of RDB, Secretary of provincial industries Mr. Padma Kulaasooriya and several other invitees participated at the event held in Hambantota.