In Brief
'Christmas Pachcchadi with Colombo Chetties'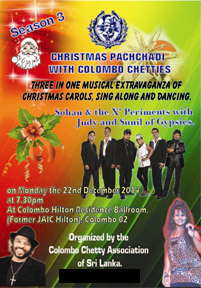 The Christmas Pachcchadi with Colombo Chetties, a three-in-one musical extravaganza of Christmas carols, sing-a-long and dancing, organised by the Colombo Chetty Association of Sri Lanka for the third consecutive Year will be held on December 22 from 7.30 p.m. at the Colombo Hilton Residences Ballroom (Former JAIC Hilton).
Sohan & the XíPeriments with guest artistes Judy and Sunil of Gypsies, will be in attendance.
The proceeds of the show is in aid of a building fund to construct the Colombo Chetty Associationís community hall.
The event is coordinated by Suresh (077 6150395) and Phyllis (077 5312970).
---
Christmas and New Year Services at St. Michaelís
December 24: Carol Service (in English) 6 p.m. Midnight Eucharist (in Sinhala) 11.30 p.m.
December 25: Sung Holy Eucharist (in Tamil) 5.30 a.m., Sung Holy Eucharist (in English) 7.30 a.m., Sung Holy Eucharist (in Sinhala) 9.15 a.m., Holy Eucharist (in English) 12 noon.
December 31: Watch Night Service (in Tamil) 11.30 p.m.
January 1: Holy Eucharist (in Sinhala and English) 7.00 a.m., Holy Eucharist (in English) 12 noon.
---
SLBC musical program
A musical program to mark the 118th anniversary of Prof. Senarat Paranavitana, the first Sri Lankan Archaeological Commissioner, will be broadcast over the Sinhala Service of the Sri Lanka Broadcasting Corporation (SLBC) on December 26 from 4.00 p.m.
The lyrics and script is written by former Asst. Director of the Dept. of Archaeology Sirisaman Wijetunga. Singers are Dayarathna Ranathunga, Prof. Amara Ranathunga, Edward Jayakody, Rohana Bogoda, Senanayake Weraliyadda, Pushpakumari Ranasingha and Wijesundara Weragoda.
The program is directed by Dr. Dayarathna Ranathunga and Rohith Wijesooriya, presented by veteran announcer Premanath Jayathilake and produced by Padmasiri Mendis.
---
Christmas service
The Christmas Day service of Jesus Centre Ministries will be held on December 25 at 9.15 a.m at the Imperial Hall, Mount Lavinia Hotel. It is open to the public.
Pastor Rohan and Sr. Marji Fernando
---
Musaeus College sports awards ceremony
The Annual Sports Awards Ceremony of Musaeus College was held recently at the Peter De Abrew Memorial Auditorium.
Former Principal of Ladies College, Colombo 7, Nirmali Wickramasinghe was the chief guest. Principal S.Dandeniya and staff attended the grand event which was adorned by a line- up of colourful dance and song items as well as special performances by the Junior Western Band and the Senior Brass Band.
---
Dhamma talk and meditation program
A Dhamma talk will be delivered by Canadian priest, Ven. Yuttadhammo Thera on Tuesday, December 23 at 3.00 p.m. at the Sri Sugatharamaya temple, Ruhunupura, Hokandara Road, Thalawathugoda.
The program will be as follow:
3.00 p.m. - 4.00 p.m. - Dhamma talk
4.00 p.m. - 5.00 p.m. - Q & A session
5.00 p.m. - 6.00 p.m. - Meditation program
---
Elderly woman missing
R.D. Dulin Menika (NIC No. 507381049V) of No. 58, Kotugoda, aged 63, and 5 feet tall is reported missing from last week.
She was last wearing a cream-coloured, pock marked skirt and a yellow blouse.
Any information about her may be conveyed to 0772748484 or 0113129314 or to the nearest police station.

---
Meditation classes at Sri Pushparama Vihara
Sri Pushparama Vihara Dhamma School, Kirilapone will conduct Abhidharma, Dharmacharya and Pali meditation classes free from January 2015.
For details please contact 0712740659.