Dictatorship, corruption and separatism will be rife:
Sri Lanka, a failed state under Maithripala - Udaya Gammanpila
Former JHU Deputy General Secretary Udaya Gammanpila says the New Democratic Front(NDF) candidate Maithripala Sirisena, who has only failures and grievances to put before voters, will only ensure that Sri Lanka will be nothing but a failed state.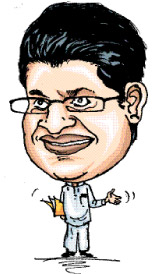 He said the tradition so far is for presidential candidates to elaborate past achievements before voters and explain why they should be offered the presidential seat. The people will elect the candidate for his past record.
"For instance when President Premadasa was nominated as the Presidential candidate he boasted of his celebrated 'Gam Udawa' housing project and how he effected local government reforms and promoted sustainable development with the setting up of theCentral Environment Authority.
When Gamini Dissanayake contested, he spoke of how he developed the Dry Zone under the Mahaweli scheme and how he got Test status for the Sri Lanka cricket in his capacity as the then Chairman of the Cricket Board.
President Rajapaksa during his presidential race spoke of his celebrated labour reforms and the role he played to uplift the fisheries sector of the country by setting up an Ocean University and building houses for fisher families. "In comparison, NDF candidate Sirisena in his statement spoke of his failures."
He said he failed to implement the National Drugs Policy and pictorial warnings on cigarette packs among other things.
The Former JHU stalwart said he left the party seeing the danger of electing the opposition candidate to the seat of the Executive President for he is doomed to be a puppet of a coalition headed by Ranil, Chandrika and Sampanthan which represents dictatorship, corruption and separatism.