Chandrika sends SOS calls
Amidst widespread stories that two prominent leaders of the so-called common opposition are planning to revert their decision and extend support to President Mahinda Rajapaksa, New Democratic Front (NDF) candidate Maithripala Sirisena is fast turning a fish out of water.
At a high-level meeting of leaders in the Opposition alliance, Maithripala has pleaded senior party leaders in the Opposition not to isolate him.
Maithripala had said that he sacrificed his ministerial post after the Opposition's offer and that it's the duty of the leaders in the Opposition party alliance to stick to their word without buckling his election campaign.
Maithripala has also accused some UNP seniors and chief organisers for not fully throwing their weight behind his campaign had threatened that he will have to think twice before making UNP leader Ranil Wickremesinghe if he does not get the expected support from the UNP.
The internal power struggles in the UNP have greatly affected Maithripala's campaign.
When Matara District UNP parliamentarian Mangala Samaraweera organised Samaraweera's Matara mail rally, he deliberately kept his fellow UNP MP from the same district Buddhika Pathiarana and UNP deputy leader Sajith Premadasa out.
Similarly, differences within the UNP ranks were evident in other political rallies of Maithripala.
Maithripala is also disappointed that he is not getting the expected support from the JHU, except for Patali Champika Ranawaka. Former Western Provincial Council Minister and JHU stalwart Udaya Gammanpila has taken a major portion of the party seniors back to President Rajapaksa's campaign, inflicting a severe blow on the JHU.
Athuraliye Rathana Thera who had been vociferous during early part of Maithripala's campaign, even threatening to get their supports to streets, is now on a low profile after Gammanpila's exit.
Gammanpila who returned to the government has been influential in obtaining the support of 17 out of the 29 JHU Pradeshiya Sabha monks who extended their support to President Rajapaksa last week. Political observers said it was a major setback to Maithripala's campaign which now entirely depends on their understandings with the Tamil Diaspora and the TNA.
Ranil perturbed by Chandrika's moves
Opposition leader Ranil Wickremesinghe has been greatly perturbed by sinister moves of former President Chandrika Bandaranaike Kumaratunga.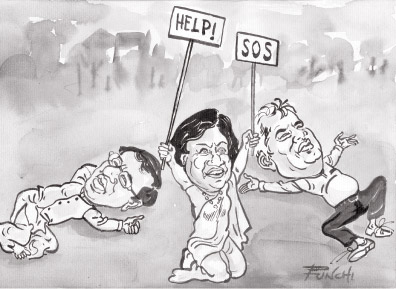 Despite repeated requests from Chandrika to address the NDF candidate's election rallies, the think tank of Maithripala's campaign has effectively blocked her form opening her big mouth that could damage the entire campaign.
The majority of the party leaders in the Opposition have said that it would be detrimental to include Chandrika's name in the speakers' lists as that would do more damage than good.
Although Maithripala had originally pledged to make Ranil the Prime Minister in case he wins next month's Presidential election, Mangala has been working behind the scenes to bring Chandrika as the Prime Minister.
But the TNA has said that they will be the deciding factor and that R. Sampanthan and Ranil should take turns as Prime Minister, three years each.
However, Maithripala's confidants are adamant that their leader should not abolish the Executive Presidency and should hold the post for the entire six-year term, if the former minister emerges victorious.
Maithripala's men have smelt something fishy on Democratic Party leader Sarath Fonseka and UNP deputy leader Sajith Premadasa. Amidst strong rumours that the duo are planning to extend unconditional support to President Rajapaksa, Maithripala camp has deployed informants to monitor their whereabouts.
Suspecting that Fonseka and Sajith would quit at any moment, Maithripala's inner circle has taken a decision not to invite Fonseka and Sajith for crucial decision-making meetings.
Tissa discloses plans to bring in Chandrika
Former UNP General Secretary Tissa Attanayake said that the NDF candidate Maithripala Sirisena had a secret agenda to appoint Chandrika as the Prime Minister in a Government formed by Sirisena, if he wins the January 8 polls.
"Sirisena has a hidden agenda to give the premiership to Chandrika Kumaratunga," President Mahinda Rajapaksa tweeted quoting Minister Attanayake as saying at the United Peoples Freedom Alliance presidential election rally at Kuliyapitiya last week.
The President also tweeted that Minister as saying that out of all the agreements signed by Sirisena, the one with the TNA would be the most dangerous.
"Attanayake asked where were the 25 SLFP stalwarts Sirisena had promised the UNP to bring along and said that the UNP Leadership had failed to represent the party at two consecutive Presidential Elections," the President said.
Attanayake last week assumed duties as Health Minister. He was sworn in as Health Minister by President Mahinda Rajapaksa at the President's House in Kandy.
Meanwhile, National Freedom Front (NFF) Leader and Minister Wimal Weerawansa accused the JHU General Secretary and former Minister Champika Ranawaka of publishing fake statistics to change peoples' opinion on the economy.
According to the minister, MP Ranawaka had said the present government was acquiring foreign loans for higher interests such as seven per cent. "This is not true. The government had obtained all the loans for interest lower than seven per cent. However, previous governments had obtained loans for high interest. The loan acquired for the Nilwala Ganga Project was 23.8 million Francs from France and the interest was 10.85 per cent," he said.
Chandrika claims lion's share
Former President Chandrika Bandaranaike Kumaratunga became the laughing stock last week when she staked a bigger claim for the victory against the LTTE by reiterating that 75 per cent of the LTTE-held territory was cleared during her tenure.
She told a news conference held at her official residence last week that at the time she took over the presidency in 1994, the entire northern region - barring five or six military bases at Mannar, Talaimannar, Kankesanturai, Point Pedro, Mullaitivu and Vavuniya in the central part of the North - was controlled by LTTE leader Velupullai Prabhakaran.Chandrika said Prabhakaran was calling the shots in the North and even dictating terms to the government officials. "But within a year after assuming office, we liberated the entire Jaffna area. How can one deny it? Our people do not believe in falsehoods. Are our people a bunch of donkeys to believe in untruths?" she said without making any comments on the huge setbacks suffered by the Security Forces during her era.
Apart from over 12,000 soldiers who were killed during her tenure, including thousands of men killed when the LTTE overran Army camps in Mullativu and Elephant Pass, many military hardware and large hauls of ammunition were either captured or destroyed by the LTTE.
When the Security Forces were marching towards victory, Chandrika succumbed to international pressure and ordered the Security Forces to halt their offensive after thousands of soldiers had perished.
Nimal discloses Opposition's meeting with Tigers
Minister Nimal Siripala de Silva on Tuesday claimed that several common opposition members including presidential candidate Maithripala Sirisena had secretly met representatives of the Transnational Government of Tamil Eelam (TGTE) in Singapore.
He said the Government would reveal details of their activities during their visit to Singapore. The minister said Maithripala Sirisena, Ranil Wickremesinghe, Sarath Fonseka, Chandrika Kumaratunga, Mangala Samaraweera, Hirunika Premachandra and Palani Digambaram had visited Singapore from time to time since November 2.
"During the same period nine TGTE ministers had also visited Singapore. It's not a coincidence and people can put two and two together.
We will soon reveal what was discussed between the two sides with more details in the future," he told a news conference held at Sri Lanka Freedom Party Headquarters in Colombo.
The minister claimed that the common opposition was plotting with the TGTE to get their support for the opposition election campaign and to divide the country in return.
"The opposition has betrayed and deceived the people" he said and added that Mr. Sirisena will not abolish the executive presidency as promised. This is only a slogan he is using to deceive the people," he said.
No room for Iraq, Libya or Egypt acts here
There have been massive crowds that came in their numbers to the UPFA rallies to support President Rajapaksa. Most of the rallies had unprecedented record crowds ever seen at political gatherings at respective towns.
There was no exception in the North. People in the North had suffered untold hardships due to three decades of terror unleashed by the LTTE. But that great humanitarian operation by the Security Forces under the political sagacity of President Rajapaksa rescued the hapless Tamils in the North who had been used as a human shield. They came in their numbers to show their gratitude to the leaders who had served them from the jaws of death when President Rajapaksa attended a UPFA political rally in Mullaitivu. Addressing a massive gathering at Vinayagamoorthy grounds in Mullaitivu on Thursday, President Rajapaksa said last week that he cannot allow Sri Lanka to face the same fate suffered by the countries like Iraq, Libya or Egypt.
"Look at the situation in Iraq, Libya and Egypt, we cannot allow this to happen in this country," he said.
Reminding the war in the country, which ended in 2009, the President said that he would not allow the country to go back to the dark era again. "We cannot let the terrorism to raise its head again. The conflict era was 30 years, but we had only five years to develop the country. If we divide ourselves into religions and races, as a country we cannot go forward," he said. He said the Government had resettled 39,913 families in the Mullaithivu District as of 2013, benefiting 127,892 persons.
"I want you to join hands with me to develop your area and to give a brighter future for your children," he said.
'I have not opened my big mouth'
When questioned by media whether she had distanced herself from the campaign, Chandrika has said she was down with a bad cough for about two weeks and therefore could not address any of the political rallies.
"If I speak, it will get worse and thought it better to keep away till I got better. There are no other reasons for keeping away. Probably the state media may want me to die," she said. But Chandrika has admitted that Maithripala's campaign through the UNP at grassroots level has been affected after the crossover of Attanayake. Explaining Maithripala's campaigning at village level, she said there were issues about coordinating propaganda activities, but those matters were being sorted and added that the crossover of UNP's former General Secretary Attanayake had an impact because he was involved in planning campaign activities.
"Normally, a General Secretary plays a key role. The UNP General Secretary was involved at a planning level. His crossover upset some of the activities initially. Now a new General Secretary has been appointed. He is sorting out matters. Things will fall in line soon," she said.
Santa Claus comes to town
Maithripala Sirisena is playing the role of Santa Clause during the Christmas season which leads up to the elections. He has come out with a massive bonanza though he is unable to disclose where he would find finances to meet those overheads.
While claiming that petrol and diesel levies will be annulled after the January 8, 2015, Maithripala has also pledged to grant an unrealistic salary increase of Rs. 10,000 to the public servants – the exact figure offered by his fellow NDF candidate Sarath Fonseka in 2010.
President Rajapaksa promised Rs. 2,500, a figure which was possible to grant, on that occasion but the masses preferred that figure rejecting an impossible Rs. 10,000 offered by Fonseka. Similarly, Maithripala's Rs. 10,000 too would be rejected by people as it is impossible to practice – increase salaries of the Government servants while scrapping the Government revenue generated though tax on fuel.
Maithripala's 100-day program is similar to the 100-day dream of Ranil Wickremesinghe after he became the Prime Minister in 2001.
Maithripala has also made an attempt to win the youth by offering them free internet and wi-fi facilities. But the people across the country are aware that it was President Rajapaksa who developed the IT knowledge of the students by constructing 1,000 Mahindodaya labs.
Meanwhile, Opposition United National Party leader Ranil Wickremsinghe has said that a future Government under his leadership would scrap the Colombo Port City Project. Ranil told tourist industry leaders who met him last week that the project would be scrapped because it would end up destroying the coastal belt from Negombo to Beruwala.
Guarantee on free and fair poll
The Commissioner of Elections Mahinda Deshapriya said last week that he and his officials would resign from their posts sans pension if it was proven that any malpractice or rigging had taken place at this presidential election.
Speaking at a panel discussion, Deshapriya assured that no malpractices would take place at this election especially when it came to transporting of ballot boxes.
Deshapriya said a document containing the signatures of polling agents would be pasted on the boxes which would have two more seals affixed leaving little or no room for any rigging.
"The last occasion when the boxes were shifted and replaced took place in Sri Lanka 30 years ago and nothing of that sort has taken place in an election thereafter," the Commissioner said.
He said four candidates contesting the presidential elections did not want election monitors from the European Union because it had worked against Sri Lanka.
However he said he cannot reveal any more details about this matter.
He added that it is forbidden, at any of the offices owned by the state or the provincial councils, government schools, local authorities or any institution owned by any state corporation or board, to canvass for presidential candidates in any manner.
The distribution of handbills or leaflets or conducting meetings too would not be permitted at those institutions.
"Therefore, all the politicians and their political activists are hereby informed that it is imperativel to refrain from engaging in such activities," he said in a statement.
Mangala continues to daydream
Matara District parliamentarian Mangala Samaraweera is better known for his media gimmicks and spreading rumors to mislead the public. He is extremely clever in creating artificial election waves so that he could thinking of the public.
He had even deployed his supporters from Matara to visit Colombo by office train and busses so that those paid agents could mix with commuters and give them a different impression.
Mangala played a similar card last week, explaining how they would act after Maithripala "wins" the Presidential election. It was a subtle attempt to mislead the public that the trend is on Maithripala whereas the President Rajapaksa had taken a clear lead in all opinion polls.
Speaking as the joint spokesman for the NDF candidate, Mangala said that Maithripala will be sworn in immediately if he is elected the President.
He told a media briefing that Maithripala would be sworn it by January 10 if he wins the presidential election and would not allow the incumbent president to continue for two years.
That was a baseless statement as no UPFA politician had made such claim as they are pretty sure of President Rajapaksa's imminent victory. Mangala said the opposition had no intention of instigating violence in the event a second preference count takes place after the election.