President Mahinda Rajapaksa will obtain over 56% votes - IASSL President
Professor in Applied Statistics Sarath Peiris predicts that President Mahinda Rajapaksa will obtain between 56.0% - 60.0% of the valid votes for the Presidential Election 2015.
Prof. Peiris, who is the President, Institute of Applied Statistics Sri Lanka (IASSL), Vice President of Organisation of Professional Associations (OPA) and Head of the Department of Mathematics, University of Moratuwa says that the expected valid votes in January 2015 will be 1,080,338.
Following is an interview with Prof. Sarath Peiris.
Q: Did you carry out a survey to find the people's opinion?
A: No. By my experience in applied statistics I do not recommend to conduct a survey to find the people's opinion on Presidential candidates as selecting a representative sample is not an easy task due to lack of unbiased sampling frame.
Q: How do some organisations carry out surveys?
A: You can do surveys and produce results. You cannot predict from only one survey. If you want to do get some accurate information, both temporal and spatial variability have to be considered and consequently sequence of surveys have to be done in various places. It is very costly for an individual person to do.
Q: How do you claim?
A: Based on past data of the Presidential election from 1984 to 2010 (that is from past six presidential election results). The change of the ministers, members of parliament or other politicians from one party to another is not a new thing to Sri Lankans. It has happened in the past. People have voted knowing those facts. Thus, all such things are directly or indirectly reflected on the number of votes for each party. In other words, the pattern of past data directly reflects the impact of all such changes.
Q:What is the trend in the past?
A: We can consider all votes in to three groups namely, SLFP, UNP and other parties. There is nothing wrong by pooling all votes into three groups: SLFP, UNP and others irrespective of political parties. The trend for the past six elections is shown in Table 1.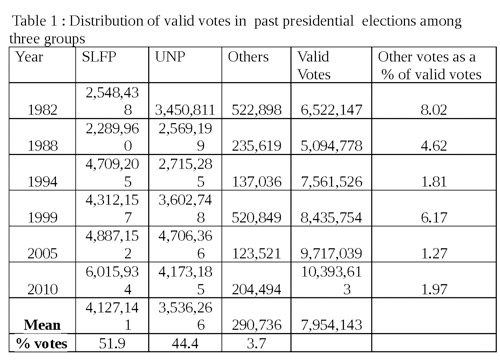 The percentage of votes taken by other parties, other than UNP and SLFP varied from 1.27% (in 2005) to 8.02% (in 1984) of the valid votes. Thus, it can be ignored by predicting the expected votes for SLFP and UNP separately as I am not interested in the number of valid votes by other parties.
The simple analysis given in Table 1 clearly indicates that whatever promises declared by different parties prior to election and whatever the changes happened prior election, more than 50% of valid votes during 1984 to 2010 are from SLFP and the mean majority is 509,875 votes. This is higher than mean number of valid votes taken by other parties (290,736 votes).
Q: What is your prediction for the election in January 2015?
A: My simple answer, based on past data, is that SLFP under the Mahinda Rajapaksa will definitely win by taking more than 50% of the valid votes.
Q:How do you predict this election results for January 2015?
A: The simplest analysis does not take into account what are the positive and negative points of both parties after 2010 as well as what is happening after Former Minister of Health and former Secretary of SLFP Maithripala Sirisena joined other opposition leaders who are against President Mahinda Rajapaksa.
Q: How do you incorporate such things for your analysis?
A: Well, there are various ways. I do not want to explain more technical matters. First I predicted the number of valid votes for the election in January 2015. My estimated value is 11,014,900. Then I considered the relationship between valid votes obtained by both SLFP and UNP against total number of valid votes during the past six presidential elections. The relationships are shown in Figure 1 and Figure 2.
Figure 1- Relationship between valid votes and SLFP Votes
Figure 2- Relationship between valid votes and UNP Votes
Based on those relationship the number of votes for SLFP and UNP were predicted. After that simulation was carried out by giving various weight factors for both candidates simultaneously such that sum of weights is equals to one.
Based on that method the predicted number of votes taken by President Mahinda Rajapaksa and Maithripala Sirisena would be 6,199,945 and 4,603,393 respectively. The corresponding percentages with respect to valid votes are 56.3% and 41.8% respectively.
In my simulation study weights were decided based on my novel concept named as corruption x work matrix.
Q: Can you briefly explain your matrix?
A: In general situation I would like to define four scenarios between corruption and work as shown in Table 2. To make it simple, I consider two levels for each factor.
Based on that matrix there are four scenarios namely: (i) no corruption and work, (ii) no corruption and no work, (iii) corruption and work, and (iv) corruption and no work.
Based on past work of each SLFP and UNP, politicians in both parties, particularly leaders can be allocated into the above matrix and consequently the main two parties can be assigned into one of the four groups. You should keep in mind this is the overall picture, which helps me assign weights for my computation.
The best scenario is that: no corruption and work. All the people can talk nicely and can give very good promises prior to coming to power. But once they get the power they do not follow what they said. Based on my experience I do not think that either SLFP or UNP does not belong to the best scenario.
The people who have no corruption and no work are useless for the society whether he or she is a politician or any other professional. Thus none of the party belongs to that group as well.

Based on past work and comparison with the work done by SLFP and UNP and also work being done by the present government (SLFP) it can be concluded that the UNP belongs to corruption and no work.
Whatever the opposition parties claim on President Rajapaksa's family, it is a true factor that they have shown good progress (good output) which has long term and short term benefits for the people in this country, in particular after the end of war against terrorism. No previous government has shown such high rate of work for the infrastructure development and other benefits such as for education, health sector etc.
As the opposition party also claims that they continue all the work initiated by the present government, it very clearly implies that they also have realised the significance of work carried out / being carried out by the present government.
However, opposition party members claim there is corruption. I do not have an idea about the level of corruption. That is why I used simulation study by changing the weights.
Q: Do you accept corruption by the society?
A: The simple answer is no. Though I am not encouraging corruption, I do not mind if the politicians or any other person can show good work with corruption. This has become a common trend in the world. The question is at what level?
Q: Why didn't you consider other factors such as leadership quality, etc?
A: Of course I can consider more factors. It makes the model more complicated. Furthermore, these things cannot be measured.
Q: Don't you want to consider the pattern of past votes by districts?
A: It is good to study all districts separately to obtain more information, but did not consider district data for this study due to obvious reasons.
(SS)