Dad donates liver but can only help one twin
Twin toddlers Binh and Phuoc Wagner have a rare genetic disorder called Alagille syndrome that affects their liver, heart and other vital organs. The 3-year-old girls, who live in Kingston, Ontario, Canada, need liver transplants to survive.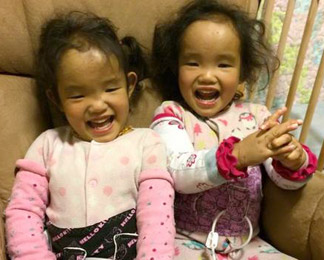 Their adoptive father, Michael Wagner, turned out to be a match but he only has so much liver to donate. His gift could only help one of the two girls.
The family said it could never choose one child over the other, and so they left the difficult decision to their doctor.
Yesterday, Wagner had a section of his liver removed at Toronto General Hospital. Doctors quickly brought the organ next door to SickKids hospital where Phuoc lay ready for transplant surgery, which was expected to take 18 to 22 hours to complete, a hospital spokesperson told the Globe and Mail newspaper.
Alagille syndrome occurs in approximately one in 30,000 births, according to the National Institutes of Health. There is no known treatment.
For the most part, doctors focus on easing the discomfort and severity of symptoms that can include jaundice, serious skin problems and fewer-than-normal bile ducts inside the liver or none at all.
Complications of the disorder include liver failure, hypertension, growth problems and an inability to absorb nutrients from food.
Approximately 10 to 30 percent of Alagille syndrome patients will eventually require a liver transplant, according to the NIH.
The one-year survival rate for Alagille syndrome patients who receive liver transplants is approximately 87 percent.
The family isn't giving up on a transplant for their other twin.
They started a Facebook page to track down potential liver donors for Binh. Gary Levy, who runs the hospital's liver donor program, told Yahoo Canada that the hospital has received 436 applications from strangers interested in becoming a donor for the little girl.
On Wednesday, the family shared a Facebook update on the prognosis of dad and daughter.
"Good news: both patients out of surgery. Phuoc's new liver looks great, thank you Daddy. Dad is groggy, looking good, and joked that someone had stolen a piece of his liver. Phuoc's g-tube was saved and abdomen fully closed. Next few days are critical, but I could not have asked for a better way to end this long day. I am the luckiest. And I will be a pro at this when Binh gets her turn, hopefully soon."
The mother, Johanne Wager, told the Globe and Mail that she was waiting to be tested as a potential donor for the Binh, as soon as her husband and other daughter are on the road to recovery.
The Wagners, who have nine children in all, adopted the twin girls in Vietnam in 2012, when they were a little more than a year and a half old.
Michael Wagner told the website he is still struggling to come to terms with the fact that he's unable to help both his daughters.
"The cruel part of the liver is that you can only do it once," he said.
- CBSNEWS