Significance of Modi's historic visit:
28 years... and then 48 hours
In the celluloid realm 48 Hours (48 Hrs.) is an action comedy, the first film in the buddy cop genre where the team of Nick Nolte and Eddie Murphy have exactly 48 hours to catch a cop killer and solve the crime.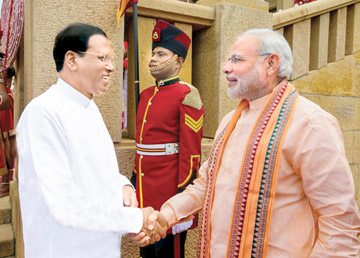 '48 Hours' is also a 1988 popular true crime American television series. However, 48 hours in the present day Sri Lankan context is a historic visit by the Indian Prime Minister, Narendra Modi, that perversely had us looking back and forward and surreptitiously sideways.... at how things were between one time good neighbours, how things could be in the future and at that awkward 'elephant in the room' no one wished to openly talk about.
Modi is the first Indian Prime Minister to visit Sri Lanka in 28 years. Not many would recall with any sense of pride the ignominious manner in which the last prime ministerial visit ended.
Significant
That was in 1987 when Rajiv Gandhi arrived in Colombo to sign the Indo-Lanka Accord, which became the flashpoint of the great divide. And then there is the Rajapaksa government's very obvious 'geo-economic' alliance, which has added dollops of distrust to keep the breach active and simmering.
Overtly Modi's visit is what can be described as metaphorical olive branch extended across the divide and a perceptible showcasing of India's keenness to fully engage with its neighbours.
Taken in that context, the two-day visit, which also saw Modi become the fourth Indian Prime Minister to address Sri Lankan Parliament, after Jawaharlal Nehru, Indira Gandhi and Morarji Desai, becomes extremely significant in terms of symbolism and political content.
New Delhi has maintained that Modi's visit is part of the Indian Government's objective of maintaining frequent contact with neighbouring countries.
Describing Sri Lanka as 'our most important neighbour' Modi earlier this week said in New Delhi, that his three-country tour of Seychelles, Mauritius and Sri Lanka stemmed from his desire to maintain frequent contacts with India's neighbours.
And Modi in a Facebook statement days before his visit reiterated his commitment and support for Sri Lanka's development, saying "I am sure together we are going to script a golden chapter in the history of India-Sri Lanka relations."
Friendship
One could reflect that the foundation for this 'golden chapter' took structural substance in the four agreements (on visa, customs, youth development and building a Rabindranath Tagore memorial in Sri Lanka) signed between the two countries on Friday and the 'very productive' discussion he had with President Maithripala Sirisena on issues of bilateral importance. If Modi's visit is a metaphorical olive branch, it is also equally an endorsement of Sri Lanka's new leadership, which has not only assured it would have closer relations with India, but acted on it by making India the first foreign destination for President Sirisena and External Affairs Minister, Mangala Samaraweera.
The visit demonstrated the willingness of the new leadership to work with India in a spirit of friendship and amity.
And the action that followed demonstrated its willingness to address Indian sensitivities – especially on the issue of regional hegemony.
And herein lies the subtext to the political substance that adds real intrigue to a historic event.
To put things in context, hours before External Affairs Minister Sushma Swaraj arrived in Colombo early March, the Government took the bold decision to suspend the US$1.5 billion Port City project, in what is being described as a high stake foreign policy gamble.
Not many countries have rebuffed China so strongly and it is not known what kind of economic fallout Sri Lanka will have to face.
MSR
There is no gainsaying India's sensitivity to China's presence in the region and Sri Lanka's near obstinate shifting of allegiance at the expense of regional concerns. China has been wooing dozens of Indian Ocean and Asia Pacific littoral states for its $40 billion Maritime Silk Road (MSR), which is Beijing's ambitious strategic project aimed at linking China with the to-be-constructed multiple communication lines in Indian Ocean Region and Asia Pacific. And Sri Lanka is a key location for the implementation of the project.
It is understandable that India would be wary of the MSR project and thankful for Sri Lanka's shifting of allegiance that not only puts it firmly in India's corner but also lobs a hard to play at curve ball inChina's direction. In this context, a historic stand alone visit would certainly win great favours as would the strengthening of ties at various levels – religion, culture, economy - as was evidenced in the 48 hours of the Modi visit. However, contrary realities being what they are in geo-politics, China would have no doubt remained the elephant in the room during the 48 hours, for Sri Lanka's move, although only a suspension of the Port City project on grounds of environmental concern could conceivably embolden other small nations to take on China.
This may well lead Beijing to use its immense diplomatic and economic clout to stem the rot at the place of its origin and not allow it to become a trend. And here in lies the significance of Modi's historic visit – a keenness to ensure that the Sri Lankan Government does not lose the momentum in its current policies of current policies of distancing itself of the Chinese influence, which had become a major cause of worry for the Indian strategic establishment.This will be the main strategic template for India-Sri Lanka engagements in the coming days and months. In that sense, Modi's visit spells the beginning of the strategic competition between the Chinese Dragon and Indian Elephant.
Be that it may, the 48 hours of Modi's stay in Sri Lanka has been a truly historic event with many firsts including visits to multiple cities, with the highlight being the visit to Sri Maha Bodhi in Anuradhapura, and to Jaffna where he met leaders of several Tamil Parties. Incidentally, Modi is only the second foreign leader to visit the North since British Prime Minister David Cameron flew to Jaffna during the Commonwealth Summit held in Colombo in November 2013.
His visit has also been much anticipated, with the leader of the Tamil National Alliance, R. Sampanthan, saying, "There are a lot of expectations from Modi's visit," and the former Army Commander, General Sarath Fonseka said, "It should have taken place year ago. Twenty eight years is a long time, but we are glad it is happening."