70 signatures for no faith against PM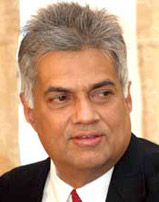 UPFA parliamentarian Dullas Alahapperuma said the No Confidence Motion moved against Prime Minister Ranil Wickremesinghe cannot be refused as it now contains the signatures of a majority of UPFA parliamentarians.
MP Alahapperuma said they began getting signatures for the No Confidence Motion on Thursday and over 60 UPFA parliamentarians have already signed it. The SLFP MPs who received ministerial portfolios in the government also signed the No Confidence Motion.
"Of the 225 parliamentarians, the Prime Minister has the support of only 47 UNP MPs. Even with the support of some minority parties, the total number of MPs who are supporting the Prime Minister is less than 80," he said.
"The main allegations levelled against the Prime Minister in our No Confidence Motion would include the decline of foreign reserves from US$ 8.4 billion to US$ 6 billion during the past five months, collapse of national security and the economy, his conduct on the Central Bank bond issue and his arbitrary move to amend the Police Ordinance and his attempt to challenge the Supreme Court ruling given on former Defence Secretary Gotabaya Rajapaksa.
The No Confidence Motion would be a new experience in parliamentary history, " he said.
Since we gained independence in 1948, there had been 14 Prime Ministers. No Confidence Motions had been moved against late Prime Ministers Sirimavo Bandaranaike and D.B. Wijetunga. The No Confidence Motion moved against late Prime Minister Sirimavo Bandaranaike had only 16 signatures. It was defeated with an overwhelming majority of 102 against 27 votes in favour.