Royal regain Bradby Shield with rampaging 49-0 win
71st Bradby Shield-2nd leg Encounter:
Royal college Colombo thrashed Trinity College Kandy by a record score of 49 points (4 Goals, 3 Tries, 2 Penalties) to Nil victory on their return leg 71st Bradby encounter worked off at Royal Complex in Colombo yesterday. At half time Royal led 18 points to nil.
Incidentally this was a record created by the Royalist being the highest number of points scred against Trinity, surpassing their best achievement of 44 Nil victory under Zulki Hameed in 2002.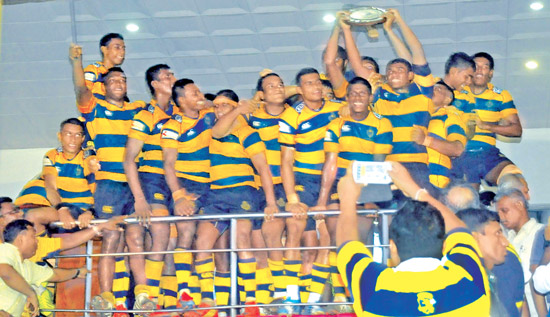 Match got off to a fantastic start with both teams attacking from the start, Royal scored first in the 14th minute when scrum half Ashok Wijeykumar made a 50 meter kick deep in to the Triniy territory where a Trinity knocked on and in the ensuing 5 meter scrum Royal Number Eight Supun Warnakulasooriya went over the line for a try which was converted by full back Ovin Askey to give Royal a 7 Nil lead .
Royal received a penalty in the 20th minute of play for a infringement by a Trinity player and the easy 20 meter penalty was put over by Askey to make the score 10 nil in favor of Royal.
In the 35th minute of play Royal work their line beautifully and ball changed several hands from fly half Gayal to Centre Akash Iddawela who gave a brilliant inside pass to his pencil sized winger Shabith Feroz who went through four Trinity defenders to score a try with a sheer burst of speed. Askey surprisingly missed the conversion; Royal increased their lead further to 15 points to nil.
Royal went further ahead during the injury time of the first half when Askey made no mistake with a penalty put over to take the score to 18 nil. This score stood till the half time.
Royal came into the second half with a different game plan and opened scoring in the very first minute off a rolling maul when their vice captain and flanker Keshan Peiris went over for a try which was brilliantly converted by full back Askey from the touchline to increased the score to 25 Nil.
They scored again after 8 minutes later through their crack centre Akash Iddawala who went over for a try and Askey missed the conversion , Royal led 30 Nil.
From this moment onwards Royal opened up the game and In the 57th minute of play Trinity player made an aimless kick which was collected beautifully by Royal speedy winger Mahima Gamage who ran almost 70 meters to score near the corner flag, Royal Full Back Askey made a fantastic conversion to increase the score to 37 points to Nil.
Royal scored again three minutes later when they work their three quarters from their own 22 line where ball changed several hands to winger Mahima Gamage again, who went through the entire Trinity line covering 40 meters to score a brilliant try. Askey missed the difficult touch line conversion. Royal led 42 Nil.
In the 70th minute of play Royal number eight and their unsung hero of the day Supun Warnakulasooriya scored ones more through a rolling maul and the conversion was put over beautifully by their full back Ovin Askey to take the score to 49 nil in favor of Royal.
Royal had a fantastic chance to put the half century on the board but their replacement winger Andrew de Silva dropped the ball just yards away from the try line to the utter dismay of all the Royalist present at the grounds since there were no Trinity defenders ..
Aruna Rankothge refereed.